One of the reasons left wing liberals are called snowflakes is because it does not take much to make them melt and give up any reason or principle, and like a snowflake hitting the warm ground, the controversial far left wing Editor of News24, Adriaan Basson's feelings towards "thousands of pensioners whose livelihood depends on the GEPF", quickly melted and turned into a callous "We have run out of money and options – pensions will bail out Eskom." Seems for some reason Adriaan Basson now supports the plan to plunder your pensions!
Far left liberal Adriaan Basson, changed his position on pension capture in little over 2 weeks: On 10 February, just before the budget speech, Basson wrote the following in a News24 column and we quote: " I do take issue with their opportunistic flirting with a plan that can only be to the detriment of the thousands of pensioners whose livelihood depends on the GEPF. I have tried and tried to see the value for the GEPF in taking over R250bn of Eskom's debt, but have failed to figure it out. There is simply nothing in it for the pensioners ".
Yet, in his newest column published two weeks later, on 2 March, titled: "We have run out of money and options – pensions will bail out Eskom", snowflake Basson, not only waxes lyrical about Pravin Gordhan, who is a person who defends all the ANC's policies, like crony BEE deals and zero contracts issued to white owned companies, and who calls a Cosatu representative one of the "smartest people in the country", (never mind the fact that the guy is a raving communist), makes it clear that Adriaan has done a typical liberal somersault, and now has accepted, for whatever reason, not only the grabbing of Government Employee's Pension Fund money to pay off Eskom's corruption and mismanagement debt, but in fact the raiding of all private pensions.
Basson also makes it clear that the ANC and Cosatu definitely have not dropped these plans to use pension money to pay Eskom corruption debt, and that they are continuing to work on this plan at Nedlac and other places. For those who still trusted liberals, would you now still do so considering the fact that Adriaan Basson, who is a known liberal and big hater of Solidarity and Afriforum, can change his position so radically in 2 weeks, and acts in such a spineless and unprincipled way?
Pensions are not ANC money. The fact is it is private money, saved up by private people, using their own money, contributing every month to build up a pension for their old age. If people's pensions are depleted it will not only mean grand theft on an industrial scale, but it will come down to a massive crime against all people, as it will mean their old age will be stolen and they will be forced to live in poverty when they become older and weaker.
Luckily the people who Basson hates so much, the Solidarity movement, are still there to fight for your rights and pension because Basson has clearly capitulated to the ANC and communists. Anyone who has watched the direction Naspers as a whole, has taken ever since 1992, will know that as a weak and spineless weasel, Basson is right at home in Naspers, who happily lift their skirt to the highest bidder…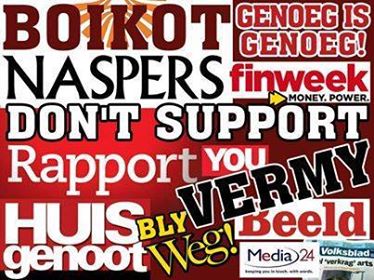 Read also: FROM NOW ON, NEWS24 WILL BE KNOWN AS FAKE-NEWS24 – Allow me to tell you a little cautionary tale regarding the media
---