Gangsterism and cutting off your nose to spite your face, seems to be a recurring theme in #TheAfricanWay: Amsterdam in Mpumalanga has instituted its own internal electricity revolving power cuts, of 5 hours per day, and the Mayor refuses to speak English at community feedback meetings.
The Mkhondo (Piet Retief) municipality serving Amsterdam in Mpumalanga has now also instituted "internal" load shedding on top of Eskom's own load shedding. The community is in uproar over an additional 5 hours per day load shedding, on top of the scheduled Eskom load shedding. Giel Coetzer, a businessman in town says his business is at a standstill and everyone's food and meat is rotting in their fridges. The local mayor, Vusi Motha, was supposed to address a multiracial meeting of both black and white residents last week, but he and other officials arrived an hour and a half late. He then acted in a very racist way by insisting to speak only in Zulu although he knew that not everyone can understand it.
Another recurring theme for these troubled municipalities, is the pedigree of these gangster mayors that rose through the ranks from the militant ANC Youth League. Executive Mayor Vusi Motha was also on the Regional Executive Committee of the African National Congress of the Gert Sibande region and he is currently the Regional Deputy Chairperson of the ANC. In 2018, local residents accused mayor Vusi Motha of being a gangster in and called for his removal after three people were killed in the area during protests against him. Other locals reported receiving death threats from Vusi Motha, whilst others said there was a hit list of people to be killed from Vusi Motha.
The Mkhondo Local Municipality in Piet Retief, on the border with KwaZulu-Natal has had its share of corruption, maladministration and mismanagement of funds, and has been investigated by the Zondo commission, but these Mpumalanga municipalities, which have a track record of mismanagement and maladministration are notorious for being cash cows for corrupt politicians, have been dragging their feet to submit financial documents requested by the commission.
Mayor Musi Motha gave no explanations or answers at the community meeting. Maqhawe Kunene, municipal manager told Maroela Media that the municipality can only distribute 1, 5 MVA electricity capacity at the moment although the demand is 2, 3 MVA. Kunene says that Eskom has imposed the reduced supply of 1, 5 MVA due to insufficient infrastructure in the municipality that can't handle the load. Kunene says the sub station that belongs to Eskom does not have sufficient capacity to carry the demands of a growing population. Eskom has been trying to inspect the sub station for the last few days but rioting township residents blocked them. Police will now escort Eskom engineers to the sub station.
In the meanwhile residents will keep on paying the price for #TheAfricanWay of failing to maintain and upgrade infrastructure, choosing instead to plunder the funds that were meant for those projects.
Projects, which in themselves were corrupt, that had to be cancelled included:
A 3km road that would have been built for an astronomically over priced R81.4 million
The installation of 940 smart meters without a council resolution. The project cost R81 million and electricity money was allegedly siphoned to private individuals;
R100 million spent on water tanks, but still no water is provided to rural communities; and
Payment of R21 million for the paving of a street that is less than 1km long.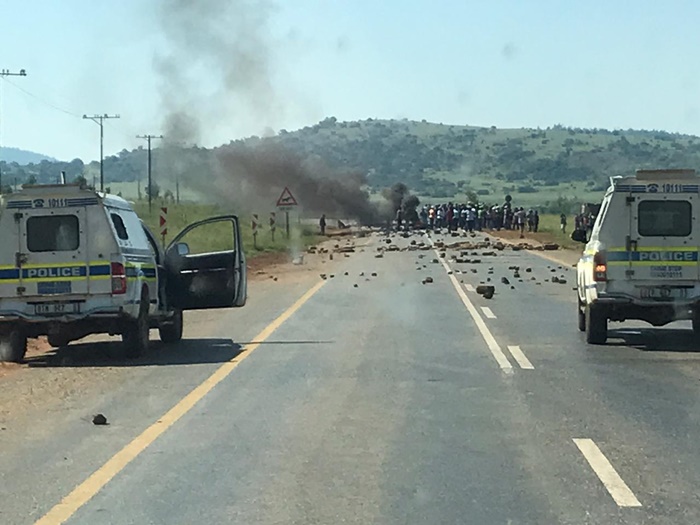 See also: Ekurhuleni Mayor connected with toilet tender scandal to the value of R1,9 billion denies that he has done anything wrong
---