A BEDRIDDEN woman in Manaba is being terrorised by criminals who seem to be consistently targeting her Mimosa Road home.
For Bev Poulton (66) the on-going break-ins have gone too far and after her sliding door was smashed with a brick in the fifth and latest incident, she now fears for her life.
Mrs Poulton was asleep at around 4.30am on March 30 when the brick came crashing through the glass, fortunately missing her bed.
"I woke up with a fright, but luckily my family was with me. They all shouted and the intruder fled before he got into my room. This is not the first break-in and I doubt it will be the last unless arrests are made," she said.
In past encounters, Mrs Poulton has had cellphones and cash stolen and has had to repair the glass sliding door twice.
Worryingly, she has an alarm system installed and the complex is secured with electric fencing. "How the criminals are getting into the property remains a mystery," she said.
Police spokesman, Captain Gerald Mfeka, confirmed the break-ins and said a case of attempted burglary had been opened for the most recent incident.
"Margate police are investigating and no arrests have yet been made," he said.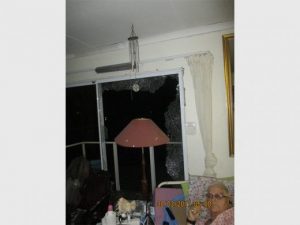 ---