Are Local Elections Van Rooyen's next dirty deed for his owner Zuma? He's in the thick of it again AND in charge of Electoral Commission for upcoming local elections. The next dirty deed?
Should we be seriously questioning Van Rooyens appointment to be in charge of the Electoral Commission? Especially given his constant appearance in questionable events that feature Zuma and Gupta's?
Des van Rooyen is in charge of the "independent" Electoral Commission (which doesn't use the "Independent in its name anymore) as part of his Co-operative Governance and Traditional Affairs Minister Portfolio. Des van Rooyen said on Monday that a recent day trip to Dubai was a private one and took place "long before confirmation" of his appointment as finance minister. Yet it coincided perfectly with Gupta's presence there.
At a media briefing in Port Elizabeth, Van Rooyen addressed a report published in the Sunday Times about his overseas trip. The newspaper reported that Van Rooyen and Mineral Resources Minister Mosebenzi Zwane travelled to the city for one day in December, while the Gupta family were there.
Van Rooyen said: "The Dubai issue, as much as one appreciates that I am a public figure, simply suggests all of a sudden my private life is something for public scrutiny, but I must indicate now I went to Dubai and I arranged my visit to Dubai which was a private visit long before I made a confirmation of myself as a finance minister.
"I think, like any other citizen of the country I am entitled to arrange private visits when there is an opportunity. I thought there was an opportunity for me to undertake that visit and I undertook it," he said.
Van Rooyen added that he had not been able to afford to stay longer in Dubai.
"It was a private visit. I paid for it. I was suppose to stay for a week but I didn't have money," he said.
Who spends (his own) money on an air-ticket to Dubai for just one day in today's gravy train corrupt ANC regime??
The report on Van Rooyen's visit to Dubai follows allegations that the Gupta family influenced the appointment of government ministers in President Jacob Zuma's cabinet.
Deputy Finance Minister Mcebisi Jonas has claimed that he was offered a promotion days before Nhlanhla Nene was fired as finance minister and replaced by Van Rooyen, only briefly, before Zuma brought Pravin Gordhan back to the portfolio.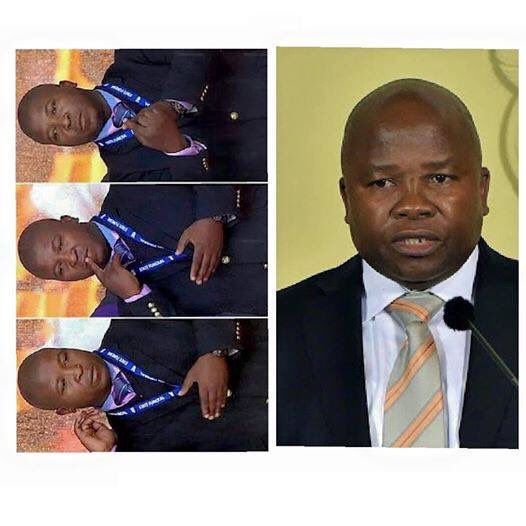 ---
See Also: Deliberate Destruction of ALL Nations. Is SA Deliberately Being Pushed to Junk Status? Global Marxism Demands It.
---