Reports state that the DA council at first assist these hundreds of black chancers- and then lastly in the Queue – are the white victims that actually are the ones that need the relief food the most.
Further-more are there reports of colored policemen that deliberately rammed domestic goats in the area with their police vehicles- take it to black residential areas- slaughtered – and distributed the meat among black residents that were not affected by the fire. Nothing are given to the white victims.The irony is that most of the relief fund food arriving in Knysna are donated by white sympathizers and donors- but nothing get distributed to white victims! Then- in a last act of despicable ungratefulness- these blacks complain that they do not want soup and bread- but instead prefer CAKE being handed out to them!
HUNDREDS OF HAMPERS DESTINED FOR WHITE VICTIMS WERE OFF-LOADED INTO BLACK RESIDENTIAL AREAS THAT WERE NOT EVEN AFFECTED BY THE BLAZE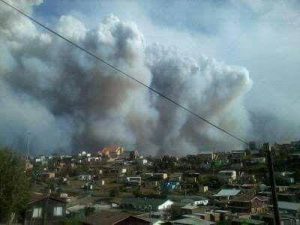 Reports also have it that there were proof of more black arsonists caught in the act of trying to start new fires. The ANC police– as expected- vehemently denied these allegations- and again are blaming the "weather" to hide the truth from the public that black arsonists are responsible for this terrible human suffering and loss of property
Black perpetrators caught, admitted that they form part of a bigger organized syndicate that deliberately set fires to predominantly white residential areas. Their devious plan is to extend the fire-line right up to Port Elizabeth. Two perps were caught in George with 5 lt cans full of petrol on their way to start new fires. After the Vryburger yesterday revealed the racist remarks about the devastating fires in Knysna, it now appears that the fires were deliberately perpetrated.By the time it was reported in the Southern Cape about 20 separate fires were still raging over a distance of 90 km, and suddenly fires broke out in the vicinity of Port Elizabeth. These fires are apparently definitely intentionally ignited.
According to reports it was confirmed that the fires in and around Knysna are arson as suspected. More than twenty black thugs have already been arrested. More fires are expected in Port Elizabeth and Wilderness. All the black thugs caught in the act acknowledged guilt and confirmed that it is all organized fires and that there is a syndicate. Fires are politically oriented. A socialite on Facebook said that they personally caught these black thugs in the act in the township this morning and caught three thugs who had thrown a petrol bomb and started fire.
"We chased them to a house in the white location where only six houses were burned – and there they climbed into a white-red Jetta with three other black thugs without a registration number. I Have taken pictures of the house and the vehicles around the house where they were, also reported it to the police. Photos will follow later
Fire fighters pushed to contain the fires around Knysna on Sunday morning as weather conditions improved along the Garden Route on day five of the infernos that have wreaked havoc in the region. Many residents were evacuated and have lost their homes as the blazes raged through the areas. Watch drone footage capture the devastating aftermath of the fires in Plettenberg Bay and Knysna.
The general state of fires in the Bitou area is that they are largely under control however; the Kransbos and Brackenridge areas will be monitored throughout the night. Other areas where flare-ups have been reported during today, are being mopped up.All roads in and through Plettenberg Bay have been reopened. We would still like to urge motorists to take caution when traveling on the roads as there might still be smoke in some areas, which may limit visibility.
FURTHER political instigation to burn white-owned farmlands and residential areas comes from black left-wing extremists such as Lindsay Maasdorp and Andile Mngxi. "If a farm is owned by black people, curse the gods. If white-owned, it must burn." This is the message posted on social media by Lindsay Maasdorp of Black First Land First. Knysna is a disaster area, and some people are continually being insensitive and raising suspicion.
Yet the useless racist ANC regime fail to take action against these black instigating despots for "racism" and "hate speech"– simply because they are not white. Even useless ANC bum nuggets such as Mmusi Miamane of the DA up to now have not spoken a word of condemnation against these black arsonists- or a word of condolences for the white victims- lest even go through the trouble of visiting the stricken area.
---