The radical leader of the EFF held a press conference in Braamfontein on Wednesday, as the red berets tackled topical issues and addressed questions regarding the 2019 Elections.
However, Julius Malema had one eye on international affairs and weighed into the current situation involving Zimbabwe and its white farmers.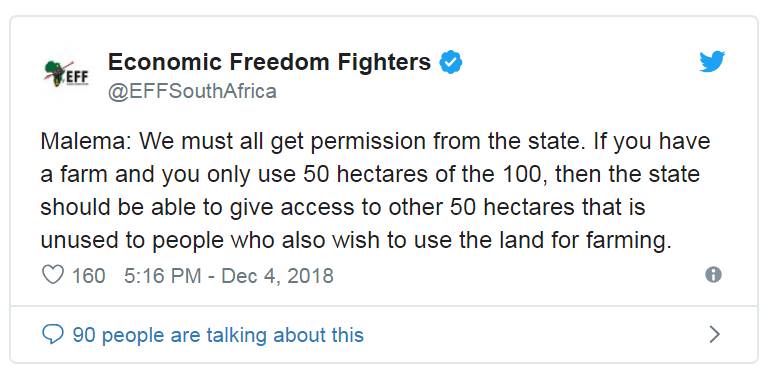 The Emmerson Mnangagwa Administration confirmed that they would financially compensate the landowners who were violently forced out of the homes during the disastrous land reform programme of 2000. It has taken 19 years, but the government have finally agreed to a $17 million settlement.
The news has been seen as a largely positive development, but that wasn't how Julius Malema interpreted it. He used the media briefing to talk about Zimbabwe's decision, claiming that it makes President Mnangagwa "look worse" than his predecessor Robert Mugabe.
The crux of the issue for Juju is that expropriation should never involve compensation. He explained that this was not a "black or white" issue, but the term "white farmers" is always used as "they are the ones with the land":
"That country is swimming in a pool of poverty and anyone compensated for stolen land is a sell-out. Mnangagwa is reversing the gains of the revolution and is proving to be worse [than Robert Mugabe]."
-news360
---
This news release does not necessarily reflect the opinion of SA-news.
---
Free Insurance and MVV (Motor Vehicle Accident Insurance) Quotations and Funeral Plans Online …. Just send "Home" or "Auto" or "Life" or "Funeral" or "MVV" and your Full Name, Age and Cell Number to: [email protected], or SMS / WhatsAPP the word with your full name, age and email address to: 062 30 30 314, or just go to www.MedSure.co.za , enter the appropriate form and we'll call you.
---
Free signup to our Dating Service …just click Dating Service now !!
---
Would you like to advertise on this very popular website ?? Just drop me an e-mail at [email protected], and I will tell you how !!
---