The social media are flooded with the latest  news that US President, Donald Trump, last night tweeted that he instructed Mike Pompeo, US Secretary of State, to investigate the situation regarding farm murders and expropriation of property without compensation in South Africa.
US President Donald Trump said on Wednesday he had asked Secretary of State Mike Pompeo to "closely study the South Africa land and farm seizures" and the killing of farmers there.
"I have asked Secretary of State @SecPompeo to closely study the South Africa land and farm seizures and expropriations and large scale killing of farmers," Trump said in a post on Twitter.
This is good news indeed. At last the world is taking notice of  the situation regarding white farmers in South-Africa .the barbarous killing of our farmers and now the new trend to steal  farmers land that was rightfully purchased.
President Cyril Ramaphosa announced on 1 August that the ruling African National Congress (ANC) is forging ahead with plans to change the Constitution to allow the expropriation of land without compensation, as whites still own most of South Africa's land more than two decades after the end of apartheid.
Trump's tweet appeared to be a response to a Fox News Fox News show, Tucker Carlson Tonight which during the segment called the South African government racist. The report  focused on South Africa's land issue and murders of white farmers.
The show which has a large following in the US often rails against liberals, media elites and Barack Obama. On the show on Wednesday night, Carlson tells his viewers that they have an "exclusive investigation".
"The president of South Africa Cyril Ramaphosa has begun and you may have seen this in the press seizing land from his own citizens without compensation because they are the wrong skin colour," Carlson said.
"That is literally the definition of racism. Racism is what our elite say they dislike most. 'Donald Trump is a racist' they say but they paid no attention to this at all. In fact, Ramaphosa is one of Barack Obama's favourite leaders in the world. In a speech just a few weeks ago, Obama praised him, he praised the racist government of South Africa and Ramaphosa by name for quote 'inspiring hope throughout the country.' Does our current bureaucratic elite agree with that? Apparently, they do".
Carlson adds: "So that's a tragedy, you just heard that. Keep in mind our State Department right now supports race-based land seizures. We hope that policy changes"
The US State Department responded to Carlson with a statement saying that it had been following South Africa's land reform closely for some time.
"South Africa is a strong democracy with resilient institutions, including a free press and an independent judiciary. South Africans are grappling with the difficult issue of land reform through an open process including public hearings, broad-based consultations and active civil society engagement. President Cyril Ramaphosa has pledged that the land reform process will follow the rule of law and its implementation will not adversely affect economic growth agricultural production or food security".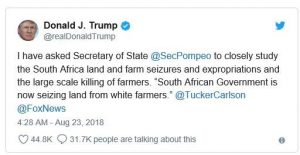 Trump replied to Carslson's remarks by Tweeting the following post:  "I have asked Secretary of State @SecPompeo to closely study the South Africa land and farm seizures and expropriations and the large scale killing of farmers. "South African Government is now seizing land from white farmers."
South Africa's state-owned Land Bank said on Monday a plan to allow the state to seize land without compensation could trigger defaults that could cost the government R41 billion ($2.8 billion) if the bank's rights as a creditor are not protected.
Since the end of apartheid in 1994, the ANC has followed a "willing-seller, willing-buyer" model under which the government buys white-owned farms for redistribution to blacks. Progress has been slow.
Trump's tweet comes days after it was announced that his wife, Melania, will travel to Africa in October for her first major solo international trip as first lady.
In January, South Africa protested to the US embassy in Pretoria about reported remarks by Trump that some immigrants from Africa and Haiti come from "shithole" countries.
South Africa's foreign ministry called the remarks, which sources said Trump made during a meeting on immigration legislation, "crude and offensive" and said Trump's subsequent denial was not categorical.
---