After a humiliating experience during the SONA State of the Nation Address, where traitor F.W. De Klerk and his second wife Elita, were badly verbally abused by his own darling blacks, Nobel laureate De Klerk unexpectedly hit back this time, and believe it or not, defended Apartheid. Maybe public humiliation does work on such a person, who sold Kith, Kin and Country for Coin, and false virtue?
Once again, SA's corrupt black majority managed to shift the spotlight from themselves, and their crimes and looting of SA, and once again beat the poor dead Apartheid donkey, blaming it for everything! During the State of the Nation Address, EFF leader Julius Malema said, among other things, that the former President De Klerk's hands were dripping 'with blood'. The EFF claimed – even before Cyril Ramaphosa could begin his speech – that De Klerk's hands were "dripping with blood," including the blood of those killed in 1992 in Boipatong City.
The EFF party also claimed that De Klerk had said a week earlier, in an interview, that apartheid was not a "crime against humanity" and that he should therefore be removed from Parliament immediately. That request was later rejected by Speaker Thandi Modise. The former president and leader of the then National Party (NP), who turns 84 next month, had sat in the public gallery as he watched and heard the spectacle of the EFF downstairs.
The next day, Friday, February 14, the De Klerk Foundation released a statement, regarding the manner in which the Economic Freedom Fighters (EFF), bullied the former president at the annual State of the Nation Address (SONA). It was only available in English.
The De Klerk Foundation, founded in 1999 to promote the causes for which De Klerk worked during his presidency, said that what happened at SONA was "wave after wave of vitriolic attacks" by Julius Malema and EFF MPs in their trademark red overalls. They then alluded to trademark symbolism of other supremacist groups who had a "supreme leader" like Malema.
According to the foundation, De Klerk, the last president of South Africa during apartheid (1989 to 1994), "repeatedly acknowledged the serious injustices committed under apartheid, and on several occasions sincerely apologized to those who did suffer under previous governments."
The statement said the insults "were more than empty words; he dedicated his entire presidency to the abolition of apartheid and the negotiation of a new Constitution that would entrench the rights of all South Africans, regardless of race. He oversaw the process that led to the repeal of all remaining apartheid laws, "he added.
Well, that might have sounded noble at the time, but as everyone knows, De Klerk's infamous "Checks & Balances" never happened, leaving whites at the mercy of a malevolent, often racist black majority on a daily basis. Even Malema's comments were a bit rich, seeing that Malema himself said a few years ago that it was better under Apartheid: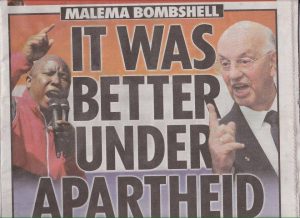 But was Apartheid a crime against humanity?
The foundation said that in November 1966 the UN General Assembly declared Apartheid as a crime against humanity – and in 1973 adopted the Convention on the Suppression and Punishment of the Crime of Apartheid.
"Both the resolution and the convention were political initiatives by the Soviet Union – which itself had committed heinous crimes against humanity, which involved the deaths of millions," the statement reads.
In 1976, when the convention came into force, 23 of the 31 signatories were "not free", according to Freedom House in New York.
"Six were partly free – and only two were free. Ironically, Apartheid South Africa was classified as "partially free" – and had a better record of human rights than 27 of the signatories," he added.
None of the major core democracies are in the 109 states that later joined the Convention.
According to the United Nations delegation:
"As good as it is, from a legitimate point of view, we cannot accept that Apartheid can become a crime against humanity in this way. Crimes against humanity are so serious in nature that they must be carefully worked out and strictly interpreted under existing international law… "
"The idea that apartheid was" a crime against humanity "was and remains an" agitprop "project initiated by the Soviets and their African National Congress (ANC) / South African Communist Party (SACP) allies to stigmatize white South Africans by uniting them with sincere crimes against humanity – which generally includes totalitarian oppression and the slaughter of millions of people," the foundation states.
According to the statement, between 1960 and 1994 about 23,000 people died in South Africa's political violence – of which less than 5,000 were killed by security forces. Most of the rest of the deaths occurred in the tribal conflict between the Inkatha Freedom Party (Zulu)  and the ANC (Xhosa) – black on black violence. This compares to 500,000 killed during ANC rule. In Kenya, the British interned over 320,000 people during the Mau-Mau uprising and hanged more than a thousand Mau-Mau members. In Algeria, the French killed more than 140,000 people in a war that claimed approximately 700,000 lives. None of those were declared crimes against humanity?
"None of this is intended to abolish the injustices that have undoubtedly been committed under apartheid, as under any government. However, we need a balanced understanding of the past – not one based on a 'simplistic black / white, good / bad framework', but on a framework that reflects the infinite shades of gray that characterize history, ' he added.
It is on this basis that De Klerk apparently made the controversial remark and furthermore, "no evidence was found that De Klerk was implicated in any violence," the foundation says.
As more and more white South Africans, who voted Yes in 1992, learn that the entire abolition of Apartheid, was part of the New (or Liberal) World Order plot, FW De Klerk's position is becoming more and more untenable, and we must start asking questions about the narrative that the mainstream media used to tell us at the time. It becomes more and more clear when one looks at how the same "anti-racism" weapon is used to take over Europe, forcing it into one "EU Superstate" – another multicultural nightmare. The only way to force a dozen nations, as in the case of SA, into one State, is to break down, mix, and displace their identities, languages, cultures, traditions, standards, morals, religion and society as a whole. into one that "everyone" accepts, namely materialism and consumerism – where the multinational companies and organizations make all the profits and power.
No matter your race, your culture is now iPads, Idols and Netflix. It is obvious that in 1994 SA was a guinea pig for what is now going on in Europe and the US: The "Kalergi Plan".
See also: South-Africa: Since apartheid was abolished, 1,000,000 people have been raped, 500,000 killed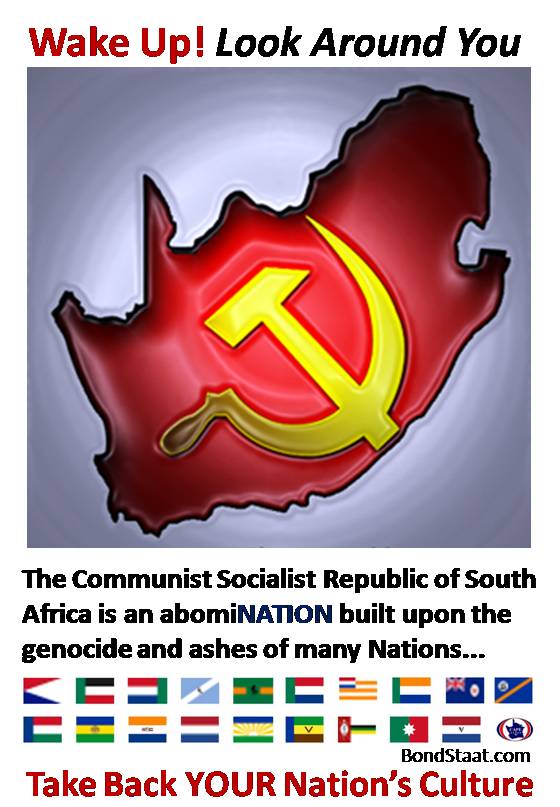 ---