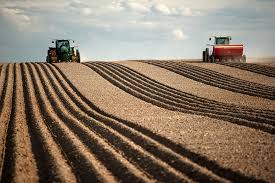 Opinion Piece:
Today the ANC once again proved they are wolves in sheep clothes. Listen closely to Mantashe's speech.
"Gwede Mantashe: "It is not the policy of the ANC to drive white people into the sea. It has never been."
Now well Mr. Mantashe, if it is not the ANC policy to drive whites into the sea, why are you mentioning it?
Your President speaks of 'OUR' land. So Mr. Mantashe according to chapter 2 of the Constitution all citizens have equal rights. So who the hell are we?
Let's be honest Mr. Mantashe, you hate and despise our farmers. We never were or never will be part of the "US".
So please stop trying to fool a genuine farmer, you are not going to succeed. All I hear daily is the s*t that you spew.  Over centuries we have seen through sly racists like you.
We want you to understand clearly, that no legal landowner will negotiate with land thieves. Take our land and you take the very soul of the farmer. You, Mr. Mantashe you should show more common sense around this issue. You yourself was a soldier, so you should know what's waiting if you continue in this vain.
Your land commission is nothing other than a gathering of thieves for promoting Stalin's policy (Communism) of land grabs. What was Jeremy Cronin then doing at your side?
And as you well know the little s**t, Ronald Ramola, has been a hater of Whites for many years and now he has to lead the committees dealing with land
No, really Gwede you are really underestimating the intelligence of the Whites.
Go ahead and do what you like, but don't say you were not warned.
Stop the ANC LAND THIEVES!!
Stop ANC RACISTS!!
Stop the EFF LAND THIEVES!!
Stop ANARCHISTS like the ANC. !!
Stop COMMUNISM!!
By:  Wessel Basson/ToekomsVonk