Civil rights organisation AfriForum is reportedly planning to lay criminal charges against 100 social media users allegedly for incitement of violence, among other things. The rights group will lay the charges on Thursday at the Lyttelton Police Station in Centurion, reported The New Age.
The affidavits AfriForum will submit include alleged racism, hate speech and incitement of violence allegedly made by the following social media users. It's likely that many of these names belong to troll accounts that can't be linked to actual individuals, although prominent ANC member and # FeesMustFall activist Mcebo Dlamini also appears.
Obatala Mcambi, for example, is almost certainly a made-up person and has had charges laid against "him" previously by Yusuf Abramjee with no result.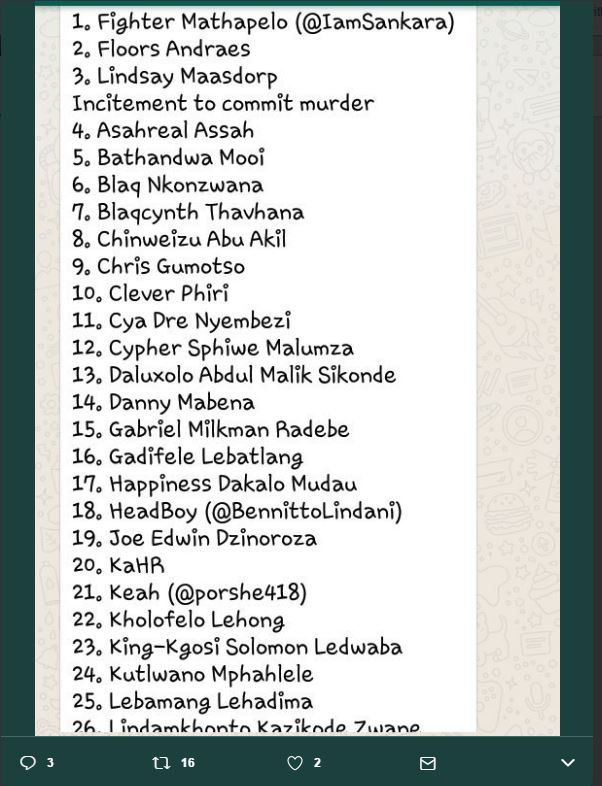 The charges pertain to several recent messages she posted on Facebook, which contain hate speech, words of intimidation and incitement to violence.
Mawisa also downloaded a picture of another Facebook user's daughter, which she then edited to appear as if the child was in a shooter's cross hairs.
AfriForum deputy CEO Ernst Roets said the words "Bullet between the devil eyes" accompanied the picture.
"Although AfriForum received hundreds of complaints regarding hate speech, intimidation, racism and incitement to violence on social media, we are shocked that a child is dragged into the debate in such an awful manner.
"We therefore decided to hand in this affidavit immediately," he said.
Mawisa wrote on Facebook: "This is why I celebrate with a big smile and a dance when white farmers are killed here in the Free State.
"Our farm killers should keep killing farmers and, if possible raping their women & little daughters and possibly infecting them with Aids. That will teach them not to mess with us."
Citizen
---