Afriforum have released their version of 2019 farm attack statistics which can be taken as a minimum, given their moderate conservative approach and it only includes attacks reported to them. However, despite this, it still shows a clear increase in the slow war and genocide on whites and even farm workers are affected.
The Afriforum statistics of farm murders and attacks for the 2019 year shows that farm attacks have increased yearly from 2011 with altogether 552 farm attacks that were reported to Afriforum in 2019. This represents a 27% increase from the 433 farm attacks reported in 2018. Lorraine Claassen, an analyst with Afriforum, says the most farm murders were in the Free State last year, a total of 11.
The numbers of farm murders in the Free State have risen considerably in the last 3 years but still altogether 30% of farm attacks last year occurred in Gauteng. Claasen explains that criminals can attack multiple smallholdings like those in Erasmia and Muldersdrift in one night because they are close together. Claasen says that 905 people were affected by attacks on farms and smallholdings last year.
In 26% of farm attacks there was a definite attempted murder involved. Murders were committed in 9% of farm attacks and rape in 3% of farm attacks. There were an average of 1,1 farm murders per week and 1,5% farm attacks per day in 2019. The average number of attackers per incident was 3. According to Claasen most farm attacks involved forced entry by for instance breaking down doors or burglar bars and most farm attackers came with a vehicle (which will make patrols of rural roads essential as the Police are not doing it).
Theo de Jager, head of agricultural body Saai says in 26% of cases farm workers were also the victims of attacks. Ian Cameron of Afriforum points out that the statistics show that it is clear that the South African Police and government are unable or unwilling or both to protect farmers and farm workers and that farmers will have to defend themselves (so pls start to carry the firearms you have and not always keep it in the safe from where the criminals will take it if they surprise you in your bed).
Just this week it was reported that the bodies of 2 men, aged 50 and 54 were found on a smallholding at Maclear in the Eastern Cape. Their hands were tied and throats slit. Their names have not been released.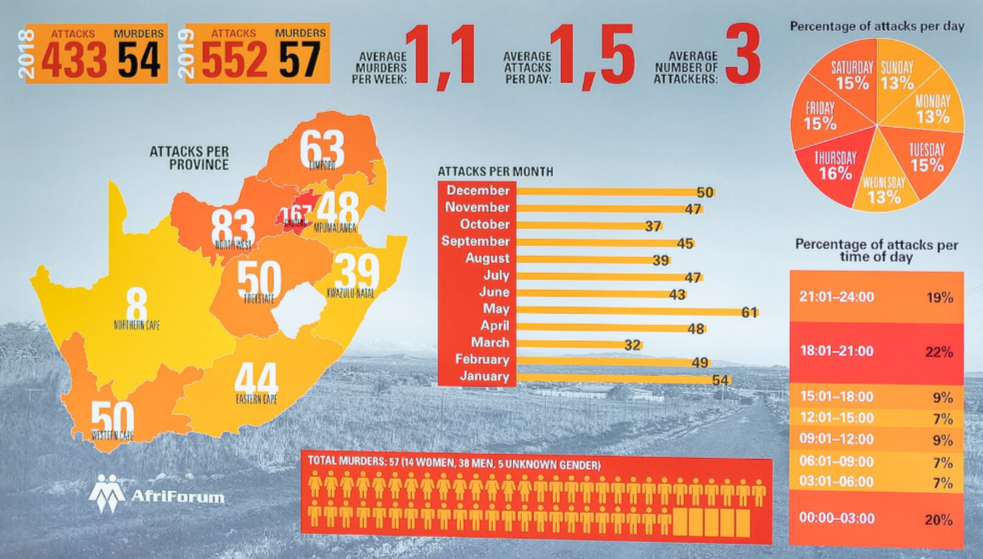 See also: Slaughter of white farmers continue – 15 Farm attacks 1 farm murder in first 15 days of December 2019
---