MDC-T leader Morgan Tsvangirai has been warned against any attempt to turn to violence as part of the opposition's fresh strategy to resist recurrent intimidation and poll theft by Zanu PF. Tsvangirai on Saturday declared his party has taken enough of its nemesis' relentless and violent abuses since formation in 1999 and was ready to "take matters into our own hands". "We in the MDC committed ourselves in 1999 to changing our government democratically, within the law and without violence," Tsvangirai told hundreds of his followers during his "state of the nation address". "We have stuck to those principles and we have neither beaten one policeman nor broken a single window in the past 16 years while we ourselves have been beaten, abducted and killed. "I am not sure whether we can maintain that stance into the future." "One thing is for sure," he continued, "the present situation is untenable and unacceptable and perhaps the time has come for us to take matters into our own hands and force the changes that are needed."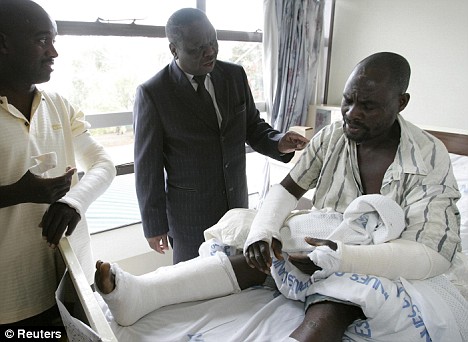 Enough is enough … Tsvangirai visits a supporter hospitalised after Zanu PF attacks
The opposition leader left his statements open to different interpretations among Zimbabweans with some concluding he meant he would lead his followers into retaliating in the face of future attacks by Zanu PF supporters. Asked to clarify his boss's statement, Luke Tamborinyoka, spokesperson to the ex-premier, said the statement was open to any interpretation but reiterated the MDC shall not allow polls to be snatched under its nose again. "All we are saying is that the suffering of the people; the lack of reforms in the elections, the violence against the people of this country… "We are drawing a line in the sand and we are going to do everything that is constitutionally permissible to make sure that it does not happen again," Tamborinyoka said. He added: "As to getting into the details of what it actually entails, it would be revealing too much; we can't get into elements of strategy. "But we are drawing a line in the sand, it won't happen again."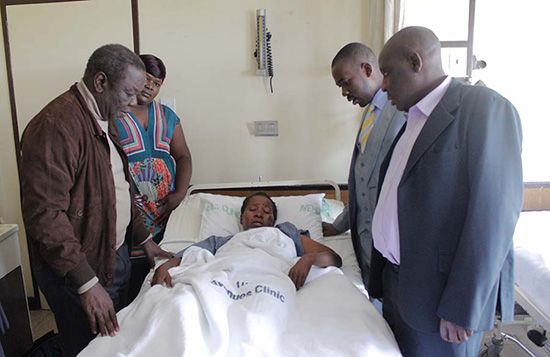 While the opposition rants and raves in the hope of puffing itself up against its more powerful nemesis, analysts feel this would be a retrogressive move for a party that fancies itself as an alternative to its violent opponent. "Violence is bad regardless of who is behind it," said Harare based political analyst Kudzayi Kwangwari. By paying Zanu PF with the same coin, Kwangwari said, the MDC risked sowing seeds of hatred among Zimbabweans, a culture he said shall prove difficult to uproot among future generations. "The tendency is that when you fight your aggressors with violence, you develop tendencies of being violent yourself," he said. "In fact, you reproduce the same force that you are fighting and the danger is that once they (MDC) win power using violence, we are likely to see a reproduction of the same opponent that they are fighting." Similarly, Rashweat Mkundu, another Harare based analyst, said Tsvangirai should redirect his defiance towards more sustainable strategies. "My sincere hope is that he meant that he was going mobilise his supporters in a much more effective manner than we have seen in the past," he said. "However, if he meant his party is going to respond to Zanu PF violence by its own violence, then unfortunately it will be in the receiving end. "I think President Robert Mugabe has been clear in the past that he has degrees in violence and not only that, he has the machinery. Only recently he told Jabulani Sibanda (ousted war veterans leader) that can deal with any opponent.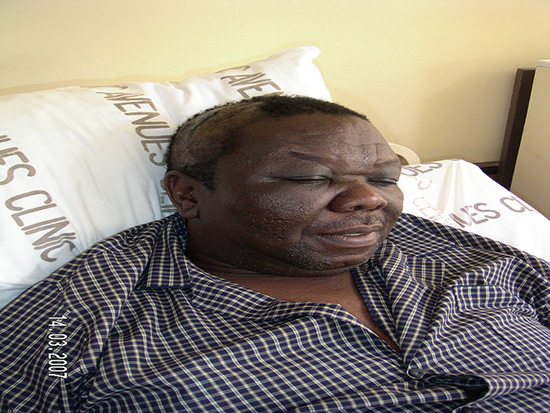 Never again … Tsvangirai in hospital after being beaten with iron bars by pro-Mugabe thugs
"In fact, the MDC has never won any confrontation with Zanu PF. Violence begets violence and Zanu PF appears on top of the game when it comes to that. It won't work." It is however not the first time the country's main opposition has mooted retaliation against persistent attack by the ruling party. Top party politicians such as Theresa Makone and Lovemore Moyo told party supporters during the party's campaigns for the 2013 elections they must defend themselves. Tsvangirai edged President Mugabe in the 2008 presidential elections but failed to challenge for the resultant run-off poll three months later after his structures were decimated in an orgy of state sponsored violence.