Naspers is a good example of the increasingly blurred lines between the media & entertainment industry and the telecommunication industry which dominant media corporations deliberately exploit. It has national and international interests in digital media (pay-television, instant messaging platforms, and related technologies), print media (publishing, distribution and printing of newspapers, magazines and books), and private education services.
Its "declared" strategy is to create media content, build brand names around that content, manage the platforms distributing the content and then deliver the content through a variety of channels: TV, internet services, newspapers, magazines and books.
When one looks at the NASPERS politically correct BEE Affirmative action profile it seems it is a black company, but how many black employees are there?
Welkom Yizani was the biggest black economic empowerment (BEE) share offer in the print media industry in South Africa. When the share offer was launched in September 2006, it was three times subscribed with approximately 107 000 applications received for 14,6 million Welkom Yizani ordinary shares. As a general rule, applicants who applied for more than 430 Welkom Yizani ordinary shares received at least 430 Welkom Yizani ordinary shares, with 85% of the applicants receiving the full number of shares they applied for. These South Africans are now Welkom Yizani shareholders who own a 15% stake in Media24 Holdings.
The BBBEE certificate for Naspers and Media24 show: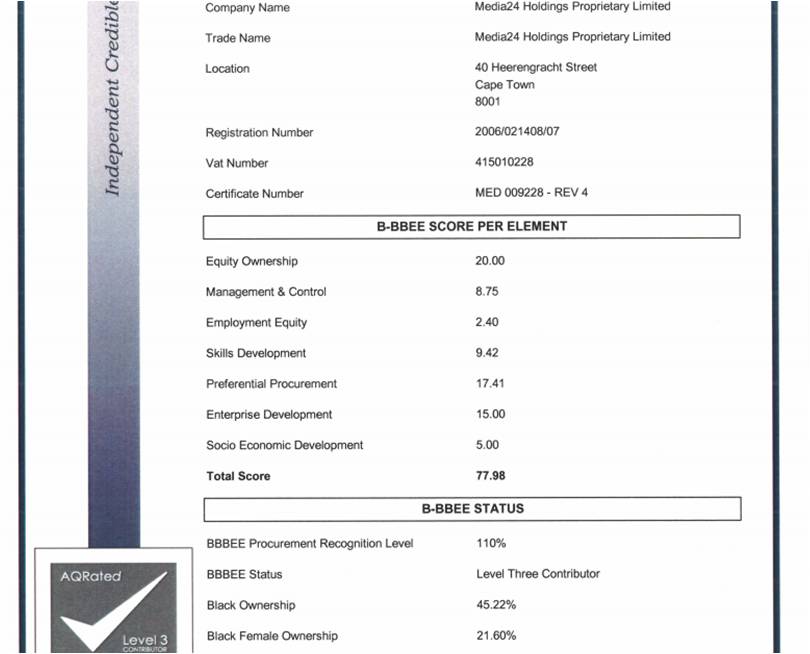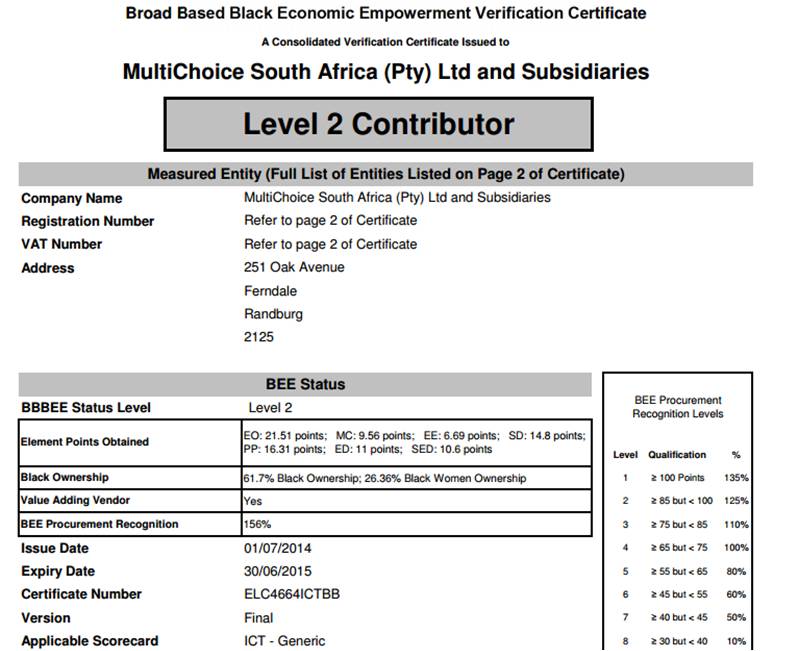 And who is Media24?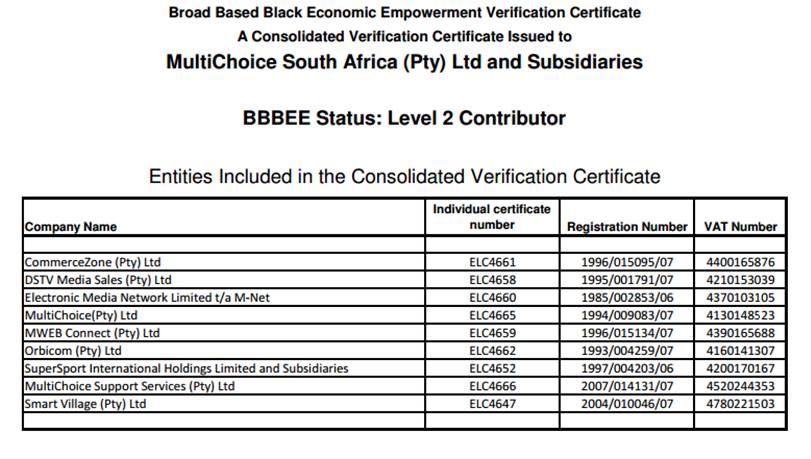 Today Naspers is the dominant force in almost every aspect of the South African media industry:
1. Pay-TV (DStv)
– 4 million subscribers in South Africa and a further 1.6 million in the rest of Africa (March 2012)
– most major sports broadcasting rights in South Africa belong to DStv
– TopTV, the only other pay-tv competitor in the South African market, was launched in May 2010, and has recently gone into 'business rescue' under section 129 of the Companies Act. It had 160 000 paid up subscribers by the end of September 2012.
– Naspers had a 25 year old monopoly on subscription TV. First through the analogue M-Net channel launched in 1986 , and since 1995 through DStv, a digital satellite service.
– In 1984 the current CEO of Naspers, Koos Bekker, and the then MD, Ton Vosloo, approached the South African Minister of Foreign Affairs, Pik Botha with a proposal for pay-tv. Their consortium, consisting of Nasionale Pers (as Naspers was known then), and various other newspaper publishers won the bid for South Africa's first pay-tv licence, defeating 20 other applicants in the process. M-Net was born. The new channel struggled for two years, but managed to start making profit after the introduction of individual home decoders, and more significantly, a change to their broadcasting licence which allowed them to broadcast free to air for two hours per day. The exposure enabled them to increase their subscription numbers to critical mass.
(Source: Anton Harber, 'Gorilla in the Room',www.mampoer.co.za, August 2012)
2. Newspapers
– Naspers through its subsidiary Media24 owns 64 newspaper titles in South Africa and is the biggest newspaper owner in terms of circulation – 39% of total circulation.
– Media24 controls almost 100% of the Afrikaans newspaper market as well as the biggest selling tabloid, Daily Sun.
3. Magazines
– According to a study commissioned by the MDDA (Media Development and Diversity Agency) there were 504 magazine titles in South Africa in 2009.
– Naspers via Media24 owned 55 titles outright and a further 34 titles via its 50% stake in New Media Publishing
– Media24 was indicated as the dominant force in the magazine market with control over 18% of the titles and with 66% of sales
– Its closest competitors were Times Media Group with 32 titles and Caxton with 31 titles
4. Publishing
– Naspers through its subsidiary Media24 is the biggest owner of publishing houses in South Africa
Digital Media
– The MDDA study highlighted that the big media companies in South Africa have moved their presence aggressively into the digital arena
– Naspers/Media24's News24.com is the most popular site measured by Nielsen/Netrating based on unique visits
– Naspers controlled 48 out of 152 domestic magazine websites in 2009
– An independent study into global digital media revenue earners rated Naspers as the 22nd highest earner worldwide, above TimeWarner, Walt Disney and Viacom, and one place below Amazon. The study was based on revenue earned from digital content including advertising.
Baby technocrats who sycophantically aspire to the halls of power abound in South Africa's educated middle class. Elitist, self-righteous and vainglorious they prefer the glossy packaging of self-enrichment to making a sincere and substantial contribution.
The Hypocritical oath:
Big media love to espouse their virtues. Upholders of freedom of speech and community values and assorted platitudes abound in their yearly reports and published company values. In reality, small media operations are put out of business because they can't compete with the marketing, financial and technological might of the big guys. If the opposite was true we would not see a massive worldwide centralisation of media ownership. Media executives love to mention how their investment in new media technology and platforms has improved mass communication, open discourse etc. Sure, you invest in cheapest lowest common denominator communication, which creates a nice fast paced, low info dumping ground. It keeps the masses stupid and you keep on making money out of the volume.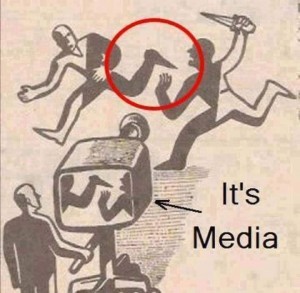 The dumbing down issue:
With more centralisation of ownership comes less diversity of opinions and information. As much as media executives protest and obfuscate the fact, there is a marked contrast in quality of local mass media content versus some independent media. Compare the quality of content on The Guardian (UK)'s website with that of Media24's News24.com and you will get an idea. There seems to be a dedicated and very cynical pursuit of volume and profit at the expense of insight and journalistic integrity, at the heart of their approach. The lowest common denominator rules as long as it creates the most money.
When technocrats rule:
There is a certain type of personality that thrives on a self-perceived vision of how the world should work, and if ambitious enough (or maybe psychopathic enough) will go to any length to fulfil that vision. Some are driven by ideology and an addiction to power like the Rupert Murdoch's of the world, while others prefer an outer façade of civilised propriety that hides an innate condescension to anyone else. When the latter type takes control of an influential entity like a media conglomerate, corporate integrity and democratic values crumble progressively and insidiously. The most effective dictator is the one who can hide his/her true nature.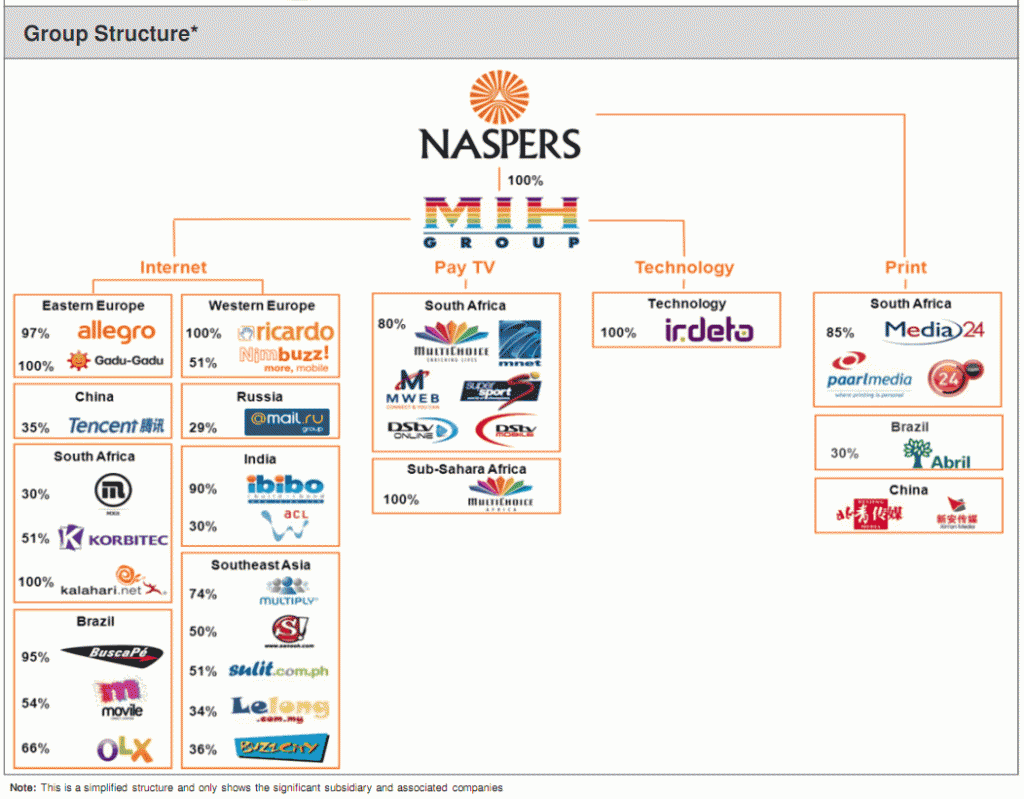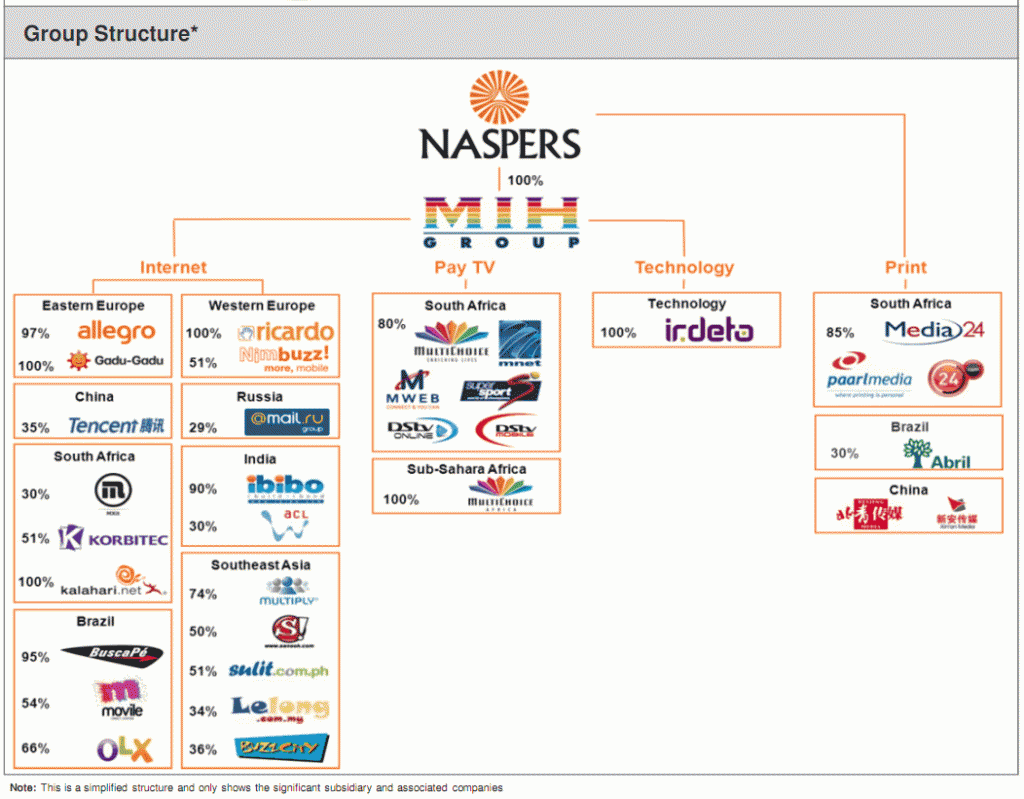 The bewildered herd must be governed by a specialized class whose interests reach beyond the locality. (Walther Lippmann)
Knowledge is power… and power is money. In order to make big money, you need big money.
The first big fund to invest in Naspers was Comerica Foreign Equity. This fund is run by World Asset Management, the investment arm of HSBC. This bank has its main (private) office on Tortola, the largest of the British Virgin Islands.
And guess where Naspers's investment arm, MIH Holdings Limited, is located? Yes, in the exact same street of this tax-haven of the (mostly) British elite. Just think about the above every time you pay a small fortune to watch M-Net, SuperSport, DSTV, et cetera.
Now, HSBC is the world's 3rd largest bank with $2.36 trillion in assets. Formerly known as Hong Kong Shanghai Bank Corporation, HSBC is one of the most unscrupulous banks ever. It has been the cash cow of the British elite since its inception as a repository for British Crown opium proceeds accrued during the Chinese Opium Wars.
Armed with a royal charter, Lord Shelbourne started the Chinese opium trade in 1783 with merchants from the East India Company. Shelbourne's main spin-doctor was Adam Smith. The latter worked for the East India Company, which was formed from the slave-trading Levant Company and later became known as Chatham House. The latter is home to the Royal Institute for International Affairs (RIIA), the second most influential think tank in the world.
The RIIA was founded in 1920. Its American sister institute, the Council on Foreign Relations (CFR), was founded one year later. Walther Lippmann, the Pulitzer-Prize essayist, journalist and mass-media genius was one of the founding members of the CFR. But more about him later. Needless to say, these two organizations, the RIIA and CFR, work hand in hand.
Now, the CFR is run by some of the best brains in America. They are truly exceptional people. They basically run the State Department, theCIA and are connected to nearly everybody that matters in the business and academia in America, and globally.
The CIA operates under the cover of various organizations when it comes to furthering America's strategic and economic interests. TheFord Foundation is one of the main fronts of the CIA (i.e. the CFR).
In June 1985, this foundation hosted the first ever meeting between the ANC and the Broederbond (i.e. the NP).
The conference took place in Glen Cove, Long Island on June 1st. The main players were Professor JP De Lange (Head of the Broederbond) and ANC officials, Thabo Mbeki, Mac Maharaj and Seretse Choadi.
This meeting did not produce the results the CFR were hoping for. So they summoned the (economic) artillery, David Rockefeller.
Along with being a CFR director for 46 years, David Rockefeller served as chairman of the board from 1970-85 and was the organization's honorary chairman till 2001. During this time, he was also chairman of Chase Manhattan Bank.
On 31st July 1985, Chase Manhattan decided not to roll over South Africa's debt. Apparently Pik Botha's traitor heart nearly stopped beating: "I will never forget the night of July 31 when [Minister of Finance] Barend du Plessis phoned me … [He said]: 'Pik, I must tell you that the country is facing inevitable bankruptcy … The process has started.'" (source).
The rest is history.
So what has this got to do with Naspers? Well, it just shows that Naspers is just another appendage of interest groups beyond the borders of South Africa. In other words, it does not serve the interests of South Africans. But then, neither do other media giants in South Africa.
Caxton/CTP's chairman in the early 1990s was Van Zyl Slabbert, who also became the chairman of the Johannesburg Stock Exchange. Slabbert was the useful idiot of CFR member George Soros. The latter, through his Open Society Foundation, sponsored Slabbert and super-useful idiot Max Du Preez… especially with his anti-Afrikaner Vrye Weekblad newspaper.
So, every time you hear about the Davos Afrikaner called Koos Bekker, the big boss of the 33rd largest media company in the world called Naspers (worth R344 billion or $34,88 billion) just know that he is just another witting puppet on an Anglo-American string.
He is just like those rich Boer farmers who became hensoppers during the Anglo-Boer War… selling out their own people purely for profit. Nothing more, nothing less.
Meaning that the "Who is Naspers?" question is not really that interesting. The really interesting question is the "why" behind Naspers.
Answering this question will take us through the wonderful worlds of Baudrillard (e.g. see my article Mandela's Empire), Noam Chomsky's Manufacturing Consent: The Political Economy of the Mass Media, the Washington Consensus, Bretton Woods, Walther Lippmann's  Public Opinion… all the way back to Edmund Husserl`s phenomenology (e.g. see my article Why Mandela).
It is a fact that people can only make sense of Reality through "ideal meanings". Those ideal "pictures in your head" prevent you, more often than not, to "… come to judgment by critical thinking" (Walther Lippmann).
Journalism is "intelligence work" and journalists are a link between policymakers and the public, according to Lippmann.
Meaning that journalists (and the media companies that employ them, e.g. Naspers) always sanitize the Truth at the behest of their pay-masters…
Albert Brenner (Praag)