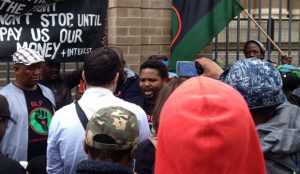 Angry members of Black First Land First (BLF) hurled insults and threats to journalists outside the courtroom where Judge Corrie van der Westhuizen interdicted the organisation on Friday from abusing journalists.

"White people are going to die with you," a BLF member can be heard shouting at senior journalist and political commentator Karima Brown, who was assaulted by the BLF outside the house of Tiso Blackstar editor at large Peter Bruce last week.

Van der Westhuizen interdicted the BLF and its founder Andile Mngxitama from harassing or assaulting journalists or protesting outside their houses.

Mngxitama could be heard telling Sanef chairperson Mahlatse Gallens outside court that BFL would not fight with black journalists. "We will protect you against white people."
 WATCH: BLF Leader says Lekota is 'a house negro who has been rejected by black people'
---
WATCH: 'If they write any racist material we are going to protest against them' – BLF Leader
---
Statement from Sanef:
Sanef rejects BLF's deplorable attempts to racially divide the journalistic fraternity. This has been a unifying moment for all journalists in the country and further motivation to do what we believe in: exposing injustice and wrongdoing, irrespective of colour or creed.
We are defending more than media freedom. We are defending the personal freedoms of every South African. Sanef chairwoman Mahlatse Gallens welcomed the interdict as a reinforcement of the rule of law and a strong statement against anyone who wants to muzzle the media.
"The purpose of the targeted harassment of these journalists is to keep allegations of corruption and state capture out of the public domain", said Gallens.
WATCH: BLF confront SANEF following court ruling
---