Johannesburg, Aug 8 (IANS) The first ever US-Africa Leaders' Summit has reshaped the relationship between the two sides and there are hopes for cooperation for mutual benefit in the future, South African President Jacob Zuma has said.
Zuma made the remarks upon his return to South Africa on Thursday night after attending the summit in Washington, the presidency said, reporting back to Xinhua, China in a statement on Friday.
Zuma joined other African heads of state and government in the first summit between Africa and the US to discuss matters relating to boosting trade and investments as well as cooperation on matters of peace, security and governance.
"There was a good relationship already between Africa and the US, but this summit has reshaped it and has taken it to another level," Zuma said.
Zuma also welcomed the indication of support for the African peacekeeping and peace-making mechanisms.
"We secured a buy-in from the US for Africa's peace and security initiatives, including support for capacitation of the African Standby Force," said Zuma.  This presumably include weapons and arms supplies, furthering the ambitions of both Obama and Zuma to disarm the people and arm the governments.
The president also welcomed the Mandela Washington Leadership youth initiative established by President Barack Obama which takes only Black African youth to the US for training and leadership mentoring, in yet another reverse racism policy which Zuma is infamous for.
However, Zuma said, this programme also needed to have the participation of Africa.
"There should be a way of involving us in the management of this programme so that there is co-ownership of this important leadership process," he said. Given his history of prejudice, nepotism and racism, we can only wonder why he would want to be included at the top level…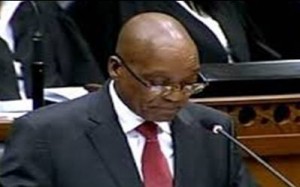 IANS