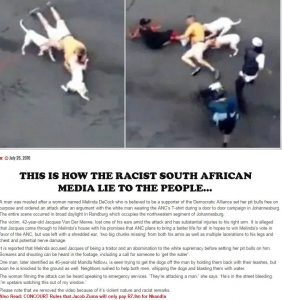 NOW WE ALL  know that the global media is controlled by  a bunch of very insane neo-con leftist goat screwing  criminals. This is very apparent when looking at some of the very sleazy tactics these  half-baked "correspondents" use to mislead uneducated and ignorant readers.
In SOUTH AFRICA, these villainous bastards have risen to a new level. Being the hand-tools of the murderous and corrupt ANC warlocks, they do not let an opportunity slip by in order to gun for these "white racists".  To prove my point, I wish to advise that I recently browsed the internet, and then happened to stumble upon a very devious constructed article that once again proved that the South African media is a bunch of very sick psychopaths, whose SOLE aim is to conjour up more race hatred against the White Afrikaners. This basically is to "unite" blacks  into voting for their destructive ANC masters in the upcoming Municipal elections.
Read the articles below and judge for yourself. In the next article- a South African website reported the following:
In the first article (dated 26 July 2016) a South African website reported the following:
( PLEASE NOTE THE AFRIKANER NAMES USED AND THE "POOR" VICTIM JUST HAPPENED TO BE AN ANC CANVASS JOCKEY THAT WANTED TO SPREAD THE "GOOD WORD" ABOUT HOW THE ANC WISHES TO BRING A "BETTER" LIFE TO THE SUBURB. NOTE THE SIMILARITIES AND THE NAME CHANGES BY A VERY SICK "CORRESPONDENT."  THE ORIGINAL POST APPEARED ON YOUTUBE ON 13 SEPTEMBER 2015 AND HAPPENED IN THE BRONX, AMERICA.  THE SECOND POST APPEARED ON A WEBPAGE, NEWSDAILY ON 26 JULY 2016, ALLEGEDLY IN JOHANNESBURG, SOUTH AFRICA.  THE NAMES HAVE BEEN CHANGED FROM ENGLISH NAMES TO AFRIKAANS NAMES AND POLITICAL AFFILIATIONS WERE ATTACHED.  IF THIS IS NOT FALSE REPORTING, WHAT IS???????)
IN THE MEANTIME, I also happened to trace  the REAL source of this article, quickly added 2 and 2 together and ofcourse I got 3:

" NEW YORK CITY — Shocking video has been released of a man almost being mauled to death by a couple of pit bulls on Belmont Avenue, in theBronx, on Friday morning. 62-year-old Francesco Bove was walking to his job at a local church when he crossed paths with 55-year-old Cynthia Oliver and her two dogs.  Bove says he thought the dogs were friendly because they were wagging their tails, but then Oliver released the animals. The pit bulls attacked Bove, biting him on the hands and legs, and even ripping off his right ear. When the dogs dragged the defenseless man to the side of the road, brave onlookers intervened to try and rescue him. But the dogs momentarily attacked them too, badly biting a 46-year-old man on the arm.
When the priest at Bove's church heard what happened, he rushed to the scene and read Bove his last rites. Bove, a devout Catholic, says he gained strength from the priest's touch and managed to hang onto life.  After seven minutes, firemen were able to corral the dogs with a hose while a brave volunteer collared them. Neighbors said the dogs have bitten other people before. Their owner, Cynthia Oliver, has been charged with assault and reckless endangerment.  As for Francesco Bove, doctors were able to reattach his right ear, and he says he doesn't blame the dogs, which have been taken to Animal Care & Control of New York City." 
Editor's Note:
YOU WITH ME ON THE SAME PAGE? Can you see how devious these vultures are, instigating race hatred against White Afrikaners?  AND this is what the world at large sees AND believes! Meanwhile, these reptiles are lying through their teeth and use deceptive tactics to brainwash the world and stir up Black hatred against Whites. This again proves  NEVER to trust another South African MSM media reporter! They are two-faced criminals on the strings of their evil communist masters, paid to promote  the  genocide against Whites. 
WN