Recent statistics reveal that an average of 686 white South African households is burgled every day by black thugs, and an average of 57 is robbed
1  Journalist's Quick Thinking Saves Her From An Encounter With Three Thugs Brandishing Knives
Home alone, it was Umdloti resident and former North Coast Courier journalist's quick thinking to escape out the upstairs bathroom window that saved her from an encounter with at least three black thugs brandishing knives and a screwdriver. The thugs entered her home at around 12.45am this morning. "I woke up to what I thought was the crash of a glass falling," said Herbst. "I looked around the house, found nothing and returned to bed."
Herbst: " My biggest fear is that they're gonna rape me."
"I felt disturbed and checked again, and spotted one of my cats crouching nervously under a couch. I returned to my room. Then I heard a repetitive clicking sound and thought there is definitely something amiss. We leave the lamps on in the lounge and I got up a third time and saw a man wearing blue overalls and a black beanie standing there. "I cannot describe the feeling of vulnerability and fear when I saw that man. "Confrontation was obviously not an option, I went back to my bedroom, locked the door, and my mind began racing. I realised my only option was to escape out the bathroom window, fortunately, a large one, but on the first floor."  
As she silently climbed out the window she phoned a friend who called other neighbors and ADT – and then she called Durban North Police. Luckily a fit and agile woman, Herbst managed to scale down the wall, reach a ledge and the balcony and run across to her friend's house. When she returned to the house with ADT she had a close encounter with one of the thugs as he tried to escape. When he jumped at her, knife in hand, the ADT armed response officer shot him in the leg.  Meanwhile, the Durban North Police arrived and cuffed the thug  upstairs. It appears the thugs had planned to take the TV, DSTV decoder, sound system, and an x-box, but only one got away with the flat screen TV. Undaunted by the trauma, Herbst approached the cuffed thug and threatened his life with muti if he did not produce her missing house and car keys. However, these were not found. "My biggest fear was being raped. "I am actually quite relieved my fiance Donovon Muirhead was away on business as he would have confronted them," Herbst said.
This thug, brandishing a knife, was shot in the leg when he tried to ambush Jacqueline Herbst.
Investigation revealed the noise Herbst had heard was the window latch falling when the thugs broke it with a screwdriver. "I am grateful to the ADT armed Response Officer who saved my life when one of the burglars jumped at me, to the Police who handled everything professionally and to the K9 Unit. I am especially grateful to neighbors who all rallied round to make sure I was okay."
Recent statistics from Africacheck.org reveal that an average of 686 white houses are burgled every day and an average of 57 are robbed by black thugs . This amounts to a staggering quarter of a million burglaries (where victims are not confronted), and nearly 21 000 robberies (where victims are confronted) each year.(Link)
HOWEVER, Herbst was not the only white victim of black thugs in South Africa this past week.
2  Elderly  Couple Tied Up For 12 Hours During Robbery At Settlers Hotel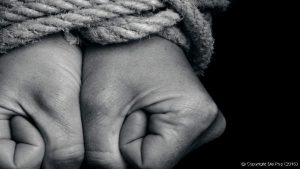 A well-known couple, Edwin and Petro Grobler, owners of the Settlers Hotel, were at the hotel on Monday, September 5, and became victims of black thugs. Reports indicate that the couple remained tied up for more than 12 hours before help arrived.
During December last year, the couple were victims of a similar incident, tied up and robbed. Maritz Grobler Jnr., Chairman of the Regional Security, of The Inquiry, told Die Pos that on Tuesday, September 6, thT a group of people entered the hotel seeking accommodation. The owners were found tied up in their living room, unable to seek help.
Maritz said Tant Petro and Uncle Edwin had bruises on their arms, caused by the ropes used to tie them up, but did not have any other injuries. Capt. Renier Schutte, Investigating Officer of the Bela-Bela Police, said that the attack took place  at the couple's home around 11:00Monday night. The couple lay helpless on the ground for about 12 hours. The suspects stole a variety of personal items, but there is still no one arrested, Schutte said. It is currently unclear how many suspects were involved in the robbery.
The suspects stole a variety of personal items, but no arrest has yet been made, Schutte said. It is currently unclear how many suspects were involved in the robbery. Die Pos has learned from several sources that the couple is in a safe environment after the attack. The couple was not available for comment. The couple farmed for many years in the Settlers area  before they bought the hotel.  Petro was an active member of the Settlers Women's Agricultural Union for many years. 
http://southafricatoday.net/south-africa-news/limpopo/elderly-couple-tied-up-for-12-hours-during-robbery-at-settlers-hotel/
3  Man Attacked At Landfill Site
And in Oudshoorn a white male Johan Swanepoel, was attacked and stabbed with a screwdriver by black thugs when he and two of his colleagues went to dump rubbish at the landfill site.
Johan Swanepoel attacked at dumping site
Johan Swanepoel, his neighbor and a laborer went to dump some rubbish at a local dumping site when  5 unknown black thugs jumped on his Hyundai pick-up. He told these unwanted aliens that he did not need their assistance and that his own workers will do the off-loading. They became aggressive and a scuffle broke out between them and Swanepoel. Swanepoel then got into his pick-up- whereafter one of the thugs opened the door at the driver-
Swanepoel then got into his pick-up whereafter one of the thugs opened the door at the driver-side,  pull out a screwdriver and stabbed Swanepoel. The thug then grabbed the keys from the ignition. Swanepoel managed to wrestle the keys back. At this point about 15 unknown black thugs ascended on his workers and started pushing them around.  Swanepoel and his workers managed to get into the pick-up and sped away without any further harm being done to them.(Link)
4  Westville Resident Escaped Unscathed After A Shootout With An Armed Robber
A white Westville resident escaped unscathed after a shootout with an armed black thug at his home on Tuesday. Blue Security Operations Manager Brian Jackson said the thug fired a shot at a Security Guard who was patrolling a property in Scone Place just after 4.30am.
"The thug fired a shot at the Security Guard who had gone to investigate after hearing a home alarm go off in the complex. The shot missed the Security Guard but the thug then lunged towards him and held him up, robbing him of his cellphones and cash," he said.  Jackson said a Westville resident, who had just arrived home and left his front door slightly open for his cat, heard the shot and was about to go and investigate when the robber pushed open the door. "The thug pointed his firearm inside the house and fired four shots at the resident and his wife, but missed, hitting the furniture and walls." (Link)
5.  Two Men Shot In Montana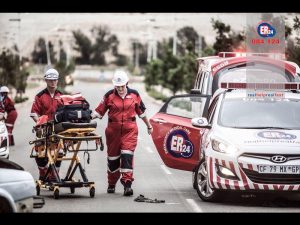 Two white men were shot and wounded in Montana, North of Pretoria, on Friday. ER24 spokesperson Chitra Bodasing said.  The men were believed to be a man and his son-in-law. "Paramedics found one man lying on the floor in a doorway and another man sitting against a wall," said Bodasing. Both wounded men were rushed to a nearby hospital. Bodasing said law enforcement agencies were on the scene. More details were not immediately available.  (Link)
6.  Man Seriously Injured In Nelspruit Shooting, Female Witness Dies Of Shock
A man is his 50s was left seriously injured this afternoon after a shooting incident at a shopping centre on Samora Machel Road in Nelspruit.
ER24 paramedics arrived on the scene at approximately 12h00 after backup was requested by local authorities.
Upon arrival, a man was found lying on the pavement, surrounded by a number of onlookers and local authorities.
Paramedics assessed the man and found that he had sustained two gunshot wounds to his chest, leaving him in a critical condition.
The man was treated and provided with advanced life support interventions before he was transported to Rob Ferreira Hospital for urgent care.
It is understood that a woman who had apparently witnessed the incident collapsed in one of the shops. Paramedics were called to assist and treat the woman. Unfortunately, after some time the woman was declared dead.
Local authorities will be conducting a full investigation into the matter.
7  White Homeowner shot in robbery In Erasmia
A white  homeowner was shot and wounded during a robbery in Erasmia on Friday morning. Police spokesperson, Captain Thomas Mufamadi, said the victim was alone in the house when the robbery occurred.
"The victim was woken by his dog barking. When he went to investigate outside, he was confronted by an armed man." "The suspect shot the owner in the leg during their confrontation."   Mufamadi said the victim managed to run upstairs to safety while the black thug stole laptops and cel lphones from the house.
"A few minutes later, the victim said he heard the suspect and another person speak just before they left his home," he said. A case of robbery and attempted murder was opened. The victim was treated by the advanced life support team then transported to
A case of robbery and attempted murder was opened. The victim was treated by the Advanced Life Support team then transported to hospital by an ER24 ambulance, Orange Fox spokesperson Marce Bester said.(Link)
8.  Wedding Ring 'Sucked' From Finger By Armed Robbers At Golden Harvest
"While beating me up, one of them said 'I want the ring,' but I truly couldn't get it off. It has been on for 21 years. So he sat on top of me and sucked it off me."
It was André Durand's mother's ring, which he converted into his wedding ring, that really was the last straw on 17 August, the day he was robbed, beaten up and assaulted in Golden Harvest Park.
Durand decided to walk the short distance home after his wife picked up the children who were out cycling in the park.
"I walked over the wooden bridge toward Northwold. I was almost home when I heard a noise coming over the bridge. Two men came running over with big machetes and I knew immediately what was happening," Durand said.
He said he tried to fight back, but was grabbed by his hair and thrown to the ground, beaten up and his ribs cracked.
"One of them, the tall thin one said 'I will kill you. I will kill you'."
The two men went through Durand's pockets and took all his valuables, including his shoes. They threw Durand's cards back at him, after forcing him to remove, and later 'sucking off ', his wedding ring.
"I pleaded with them not to take the ring, I even offered to draw them my maximum," but they were not interested.
Durand said he was finally left alone, later admitted to hospital and released the following day (18 August) and went straight to the police station. Here, he said, he was equally traumatized by how he was treated by the officers on duty.
"I was in pain, had been badly beaten up, and had just been discharged from the hospital an hour earlier and I was clearly not familiar with the procedures surrounding the reporting of such cases, I had to ask for the process to be repeated to me. I was astounded at the fact that I wasn't able to open a case or even have any statements taken and I verbally expressed this to both attending police officers," Durand expressed in his complaint letter addressed to the Community Policing Forum, who said they would forward it to the station.
Durand said the hospital said they needed to have a case number to fill out the form, but the police needed a J88 form, a legal document that indicates injuries sustained, to open a docket.
About two weeks later, after still not being able to obtain a J88 form, a case was opened.
"The detective then phoned me the following day and asked me why I took so long to open a case. I couldn't believe it," Durand said.
Police spokesperson, Captain Balan Muthan, said the complaint laid by Durand is being investigated.
Muthan explained that under normal circumstances the police will open a docket and provide the complainant with a stamped J88 form to take to a doctor.
"But this is done when a person's injuries are not visible and if they have already been to a doctor," he said.
But if a complainant goes to the station with visible injuries, police will ask the person to go to a hospital to have the form filled out.
Durand said he is happy to offer a reward for the ring. If you have any information contact 079 756 2402.
9  Man Dragged 50 Metres By Car
A 40-year-old white man was dragged over 50 metres by a car, after two black thugs posing as Community Policing Forum (CPF) members stole his cellphone and drove off with it. Brendon MacDonald said he was walking home from a restaurant in the early hours of Saturday morning when a vehicle stopped next to him. He claimed he heard a woman's voice coming from the car, asking if they could borrow his cellphone. When he asked who they were, the woman said she was from the CPF and their radio wasn't working at that time. "A red light immediately went on in my head and I said I would punch the number in myself instead," Brendon said.
 Brendon MacDonald- dragged for 50 meters 
He said he leaned towards the window to hear what the woman was saying. "She forcefully grabbed the phone out of my hand and the driver hit the gas pedal," Brendon said. "I instinctively grabbed onto the vertical part of the window and held on for dear life as they drove off," Brendon said. Brendon said he saw four houses pass by before realizing he couldn't hold on any longer. "I fell to the ground and was unconscious for a few seconds. When I woke up, I jumped up and ran in the direction of the vehicle, but I was too slow and disorientated to identify it." When the adrenaline wore off, Brendon started to feel his skin burning where the tar had scraped most of it off his arms and knees. "It felt like I was on fire and the blood just poured from the wounds."
He said he walked around the corner to his home. His parents were shocked to see how much pain he was in. He was later taken to his doctor where his broken hand was put in a plaster cast, his scraped knee was bandaged, and he was given medication to help him cope with the pain.
"The worst thing about this situation is not that my cellphone was stolen, nor is it the pain, but rather the fact that I cannot do my job properly because of my injuries." Brendon is a storeman for a Pratley Steel warehouse. "I can't pick up boxes or write properly. It is both disappointing and frustrating." 
Henry Carsen, Chairperson of CPF Sector 8, warns community members not to fall into this trap. "CPF members will always have their CPF reflector jackets on and will carry identification cards with them," Henry said. "If you are not certain whether or not a person is a CPF member, ask them for identification and report them if they don't have it with them."(Link) 
10  Margate teacher stabbed
A POPULAR Margate Primary Vice Principal, Lucille Garritson, was stabbed by black thugs at her home in Uvongo on September 09 2016 . According to reports, two black thugs  broke through the security doors at the back of her townhouse. She heard the noise.
They threw her to the floor and started stabbing her. A neighbor heard her screams for help and rushed down. The two thugs  fled, taking an iPad. Ms. Garritson suffered severe lacerations to her hands as she tried to defend herself. She was treated in hospital and is now being cared for by colleagues. She is extremely stressed but thankful to be alive.
Police confirmed that the incident occurred in Edward Road, Uvongo. Captain Gerald Mfeka said the woman, 55, was lucky to be alive after being threatened and stabbed by the thugs. He said the incident had taken place at about 9pm.
"It is believed that they gained entry by forcing open the burglar gate. Once inside, they held her at knifepoint, and demanded cash and cellphones,"he said.  The iPad was later traced to the Masinenge Black Informal Settlement in Margate. "It was found on the roof of one of the many dwellings," said Capt Mfeka. No arrests have been made, but police are investigating a case of house robbery. (Link)
HOWEVER, BUT not all the white victims were lucky to escape with their lives after being attacked by black thugs in South Africa.
11  Vaal River – Brutally Attacked And Murdered While Fishing At Vaaldam
A Viljoensdrift  white couple was attacked while being on a fishing  trip with friends at the Vaaldam earlier this week.
FOUR WHITES WERE BRUTALLY ATTACKED BY BLACK THUGS WHILE ON A FISHING TRIP
André (54) and Barbara (48) Fourie from Krugersdorp were on a weekend outing with friends, Freddie and Anna Barnard, when they were brutally attacked by black thugs wearing balaclavas and armed with pick handles. Except for bludgeoning Andre Fourie numerous times with the pick handles, the thugs also tried to decapitate Andre with knives and assaulted Barbara viciously. After the brutal
After the brutal assault, the thugs also robbed them while most of the group were unconscious, except for Anna. She managed to load her husband and friends in their vehicle and raced to the Fezi Ngubentombi Hospital. Freddie was in the worst condition of all and subsequently passed away on Tuesday morning due to his injuries. Barbara is still recovering in the Vereeniging Mediclinic. Andre pulled through and is recovering.(Link) 
12  Krugersdorp Knife Murder – 
Victim 's Name Known

In Krugersdorp, an elderly white male, Buks Pretorius (80),  was attacked and stabbed numerous times inside  his home in Krugersdorp West. Paramedics of  the Netcare 911 found Pretorius in his home in a pool of blood. They stabilized his condition and raced him to the nearest hospital for further treatment. However
However , upon arrival Pretorius succumbed from his wounds. Police Spokesperson, Tshepiso Mashele, said that information regarding the motive or the murderer/s involved  is still unclear and that the case is still being investigated. (Link)
13  A Grave Murder Mystery
Quintin van der Sandt- Found with a hole in his head next to the graveyard.
In the Western Cape another white man, Quintin van der Sandt,– was brutally murdered by black thugs.  Cops are investigating the gruesome murder of Van der Sandt who was found near a graveyard with a hole in his head in an Overberg dorpie. According to police spokesperson Constable
According to Police Spokesperson, Constable Noloyiso Rwexana, the body of the 27-year-old Van der Sandt  was discovered next to the cemetery in Riviersonderend on Sunday evening. A resident who knew the victim says Quintin van der Sandt was last seen alive in Riviersonderend on Saturday afternoon.
"The next day his family became worried and started looking for him," says the man, who asked to remain anonymous. "His body was discovered on Sunday night close to the cemetery.  Apparently, he had a hole in his head and a jacket was thrown over his head. "His silver Volkswagen Caddie was found on the road near Ashton."
He adds that forensic analysts searched the vehicle and found a blood-stained spanner and blood splatter inside the vehicle which was abandoned at the side of the road. Rwexana confirmed that the vehicle was found in Ashton but says the deceased was not reported as missing. "No one has been arrested at this stage," says Rwexana. (Link) 
MORE ATTACKS ON WHITES BY BLACK THUGS THIS PAST 30 DAYS
14  #FARMATTACK  – White Farmer And His Wife Attacked On Their Farm Waagfontein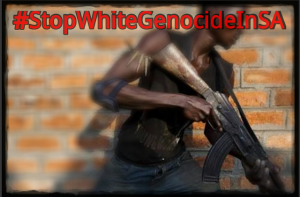 #FARMATTACK Waagfontein 160. Around 1:00 this morning , 23 February, the couple was awakened by the barking of their dog barking when they looked up one of the attackers was standing in the door . The attacker began shooting at the dog and also shot at the woman grazing her buttocks. Her husband returned fire and there was an exchange of fire in the house. One of the shots hit struck the bed just above the child's head . The attackers fled the scene .
http://stopwhitegenocideinsareports.blogspot.co.za/2016/02/farmattack-family-survives-shooting-by.html
15  White Farmer Attacked On His Farm In Bethulie – "I've never been so scared . "
Dit is die woorde van 'n boer, Piet Swanepoel, wat vroeg vanoggend 'n noue ontkoming op sy plaas buite Smithfield in die rigting van Bethulie gehad het nadat vier aanvallers hom probeer aanval het.
Piet Swanepoel en sy vrou, Anja, se twee honde het omstreeks 03:00 buite die huis geblaf. Die egpaar het toe gebid en gewag voordat Piet omstreeks 05:00 ondersoek gaan instel het.
Swanepoel sê hy het by die huis se voordeur uitgegaan en na die agterkant van die huis gestap. Hy het 'n bees buite die huis verwag, maar groot geskrik toe hy vier mans sien.
"Ek het aanvanklik nie geskiet nie, want ek het nie geweet of dit net onskuldige mense was wat probeer deurloop het nie. My lewe was toe nie in onmiddellike gevaar nie."
Swanepoel, wat ook 'n kroeg op die dorp besit, sê hy het op die mans geskreeu. Een van die booswigte het toe 'n voorwerp in sy rigting gegooi. Swanepoel het daarna 'n waarskuwingskoot afgevuur, waarna die booswigte weggehardloop het. Hy het buite die huis gewag terwyl sy vrou hulp ontbied het.
Swanepoel, wat ook die polisie geloof het vir hul spoedige optrede, sê dit is die eerste keer dat hy en sy vrou so iets op die plaas beleef het sedert hulle verlede jaar Mei daarheen getrek het. Hy het ook advies vir diegene wat hulle in 'n soortgelyke situasie bevind.
"Hou jou wapen altyd by jou, maar moet nie uitgaan nie. As ek vroeër uitgegaan het, sou hulle definitief 'n verrassing vir my gehad het. Die Here het ons toe beskerm," sê Swanepoel.

Niemand is nog in hegtenis geneem in verband met die voorval nie. Polisiebeamptes van Bethulie en Smithfield, lede van die Smithfield-landbouvereniging en plaaslike boere was steeds vroeër besig om die gebied te fynkam.
http://www.bloemfonteincourant.co.za/die-het-ons-beskerm/
16  Bejaarde Boer En Vrou Op Bothaville Aangeval
'n Bejaarde boer, sy vrou en 'n ander vrou uit Bothaville in die Vrystaat is aangeval in hul huis op hul plaas vroeg vanoggend.
Bothaville Landbou-organisasie se veiligheidskoördineerder, Johan du Plessis, sê ses swart aanvallers het toegang verkry tot die plaashuis net ná 02:00 vanoggend.
Hulle het die egpaar en die vrou met kleefnabd vasgebind en daarop aangedring dat die boer die sleutels van sy kluis oorhandig.
Du Plessis sê 'n vuurwapen en geld is gesteel. Twee van die verdagtes was gewapen. Hulle het gevlug in 'n silwer Volkswagen.
Du Plessis sê hulle het in die rigting van Orkney gevlug. Die getraumatiseerde slagoffers het beserings opgedoen.
Die polisie het nog nie bevestig dat die aanval plaasgevind het nie.
http://praag.co.za/?p=40705
17  White Woman Hi-Jacked And Murdered By Black Teen Gang In Adcockvale
The third suspect, also a 16-year-old boy, was arrested early on Tuesday morning at his Zwide home.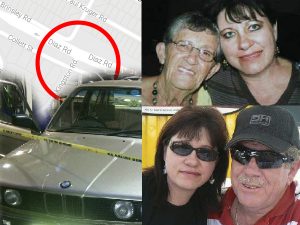 A third teenager has been arrested in connection with the hijacking and murder of a Adcockvale woman outside her home on Monday afternoon.
Magda van Vuuren, 53, died after she was shot when a group of youngsters allegedly hijacked her in Diaz Road.
Two suspects – a 16-year-old boy and a 15-year-old girl – were arrested at the Engen garage in Bluewater Bay on Monday night when an off-duty police officer spotted the hijacked BMW at about 8pm.
The third suspect, also a 16-year-old boy, was arrested early on Tuesday morning at his Zwide home.
According to eyewitnesses, the suspects were wearing the Westview School uniform.
http://policepicsandclips.com/2016/09/13/third-teenager-arrested-connection-hijacking-murder-woman/
18    White Man Attacked In His Home At Hillcrest - 'I Woke To A Gun In My Face'
"I will shoot you before I leave." These were the chilling words that kept echoing through a Hillcrest resident's mind during a home robbery on Sunday morning.
Dwain Larsen Dreyer, 28, said he had woken at 2am to a man standing over him, pointing a 9mm pistol at his face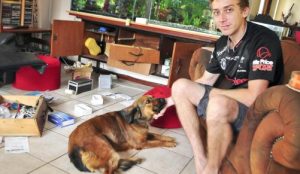 Dwain Larsen Dreyer with his dog, Bella, after their traumatic robbery experience in Hillcrest, west of Durban.
Dreyer said his dog, Bella, at his bedside, had tried to bite the man but was kicked.
The self-employed automotive technician was then dragged out of bed.
"My dog squealed in pain. The echo of the boot hitting her made me lose it. I clobbered the guy with every punch I could put through. I thought he was alone until he dragged me to the kitchen.
 "He gripped me by my T-shirt. When I looked out the window, I saw a few others standing in the yard, with what looked like rifles.
"They made death threats through the window, forcing me to open the kitchen and garage doors," Dreyer said.
The first robber had entered the house by bending a burglar bar in the kitchen. Dreyer was told to lie facedown on the floor. Bella had fled into another room.
"One guy held a gun to the back of my head repeatedly saying he will shoot me before they leave. The 15 minutes on the floor seemed like two days. In my mind, I said, 'just shoot me and get it over with'. He kept threatening me. You have to believe it. I kept thinking of the guy that died in Westville," said Dreyer, who was alone at home.
The robbers ransacked the house and garage. Dreyer is still drawing up an inventory of the items taken. His laptop was found in the driveway.
A spade was found jammed under the garage door. Dreyer said the robbers could have tried to break into the garage but failed.
The intruders drove off in a white Hiace minibus.
Dreyer believes one of the men was bleeding because he found droplets of blood on the kitchen floor.
Last week, 35-year-old Gary Mackay, a father of two, was killed in a house robbery in Westville.
In the past year, 95 house robberies have been reported in Hillcrest, according to the recent crime statistics, while Westville stood at 100 reported cases in the same period.
"I was in shock and could not speak to the security company on the phone. I have been involved with the local community police forum helping other victims of robbery but I did not think that one day I would be robbed. I am grateful for the assistance and counselling I received from Hillcrest SAP and the security company," said Dreyer.
Police spokesman Lieutenant-Colonel Thulani Zwane said a case of house robbery had been lodged with Hillcrest police. No arrests had been made.
http://www.iol.co.za/news/crime-courts/i-woke-to-a-gun-in-my-face-2067126
19  Family Robbed Days Before Wedding
A Malvern family's wedding plans were ruined when three armed robbers barged into their house and robbed them of R30, 000, recently.
According to reports, a businessman was returning home after collecting money. When he reached home a few minutes later, three armed men barged in and held the family up. They demanded money and proceeded to search the occupants of the house. A wedding was due to be held and apart from the normal occupants of the house, family members were present. In total, a sum of R30, 000 was taken from the family.
Corporate communications officer of Malvern SAPS, W/O Radhika Marimuthu said, "While the suspects were fleeing, another resident of the house had pulled up and blocked their path. They demanded the keys of the vehicle and fled in it. The vehicle was recovered in Bridge Section, KwaMashu by Malvern SAPS Crime Prevention members, W/O Trevor Raghunandhan and Constable Protas Sibiya."
W/O Marimuthu further added, "Community members having functions are urged to inform their security companies for added security. Although decorating of premises is a tradition in some cultures, it also lures criminals. Where businesses operate from home, it is prudent not to have prominent signage. This informs and attracts criminals. Stricter measures must be taken to ensure that you know who is entering your property at all times. Where businesses operate from home, avoid keeping large amounts of cash on the property."
A case of house robbery is being investigated. Anyone with information in this regard can contact W/O Breytenbach on 031 489-9631 or the branch commander, Cpt Khambule on 031 489-9624 031 489-9629.
http://risingsunchatsworth.co.za/68362/family-robbed-days-before-wedding
20  White Man Attacked And Fatally Shot In Centurion
A man was shot dead in Centurion earlier on Saturday.
The shooting happened around 11:40 on the corner of Old Johannesburg and Eeufees roads.
According to Centurion Concerned Citizens spokesperson, Hannes du Buisson, a man jumped out of a silver Volkswagen Golf and shot a man in a silver Toyota Yaris.
"After the man shot the other man in the silver Yaris, he drove over him as he escaped the scene."
The shot man was declared dead at the scene.
Police spokesperson, Captain Augustine Selepe, said she will acquire more information on the subject.
21  Dentist Talks About Narrow Escape
A Centurion dentist narrowly escaped with his life when he was hijacked in the past week.
"I imagined my brains being blown away," Dr Rickes Putter told Rekord.
He said his big fear was that the gun would go off while one of the hijackers was speeding through the ditches.
The second one was holding a firearm to his head.
Putter was on his way home around 17:00 last Thursday when things went awry.
He was in his car outside his rooms in Wierda Park around 5pm when another vehicle came around the corner.
Neighbours heard the sound of screeching tyres.
Bets Makkink, a retired clerk in the homicide division of the police, said she also heard the sound of a firearm being cocked.
"For this reason, my son peeped through the window and saw one of the hijackers getting into the doctor's car."
Makkink said the car took off, followed by the doctor's with him inside.
She notified the emergency Zello-App.
Putter used a small flashlight on his key ring to try and alert passing motorists to his plight.
A firearm was used to push his head down in the back seat of his car while the other hijackers were racing through the streets of Centurion.
Putter said his cellphone rang at some point.
"My phone was connected to the car's Bluetooth and the driver instructed me to answer."
It was a friend, who asked him in Afrikaans whether he was fine. The friend said he was aware of the hijacking and abduction, said Putter.
"Although the hijackers shouted at me afterwards wanting to know what my friend has said, it was a relief to learn that people were aware of my plight."
He said after some more speeding, the hijackers stopped somewhere in a street.
"There were about 15 men. Both the driver and his friend got out while another man kept holding me at gunpoint."
The two masked hijackers returned and drove off again with Putter in the car.
They stopped again to bundle him into a smaller car in view of the public.
"I remember a lot of people were watching," said the dentist.
The hijackers stopped shortly afterwards.
"They shoved me out the car and told me to run. I didn't think twice. I ran because my life depended on it," said Putter.
"One of the hijackers fired two shots. I am not sure if they shot up into the air or if they were shooting at me. I am not sure."
Putter said he saw a ditch and decided to hide.
"I laid there for a very long time until I felt it could be safe to get up."
He said he walked until he saw the sign of a hospital at the T-junction of WF Nkomu and Skurweberg streets.
"While I was walking, I realised I still have my little torch attached to a key ring. I tried flashing it to the two police vehicles who drove by."
Putter was relieved when a vehicle that drove behind the police stopped to help him.
"The man who gave me a ride to the police station was is a panel beater who just came from work."
Putter said when he got to the police station in Atteridgeville, a woman posted their arrival on Facebook.
"The captain who took my case,] was about to go off duty, but he stayed to take my statement. He even borrowed me his phone to make some calls."
CPF-members and the security firm Cop Watch soon arrived.
Putter said he would never have expected so much help from strangers.
"These people do this every day for a lot of strangers. I don't know how everything would have played out if tannie Bets and her son were not so alert."
Putter's wife, Wiki, also a doctor, thanked residents for saving her husband's life.
Wierdabrug police spokesperson Tumisang Moloto said a hijacking docket had been opened and the police were investigating.
No arrests had been made by Tuesday.
http://rekordcenturion.co.za/96790/dentist-talks-about-narrow-escape/
22  Nightmare Ordeal For Ballito Pensioners
An elderly Ballito couple were attacked in their home this week, tied up, tasered and threatened with their lives – but miraculously lived to tell the tale.
On Monday evening Jannie and Magdalene Smit, a retired couple in their 80s, returned from a short shopping excursion to find two armed men waiting in their home.
As Smit was locking the front door behind him at their Stella Road home, he heard his wife cry out in alarm.
He was confronted by two men – one armed with a pistol, the other one brandishing a knife.
The intruders tied their arms and legs with cable-ties, before ransacking the house and demanding money and valuables.
"I will kill you and take your wife to Mozambique," was the threat leveled at Jannie when he told his captors that there was no money in the house.
Staring down the barrel of a gun, the Smits endured for nearly three hours as the criminals searched the house – periodically returning to the room to assault the pair and even shocking the elderly couple with a taser stun gun.
Shortly before 7pm the criminals finally decided to run. Demanding their car keys, the two men attempted to escape with the couple's vehicle – only to misjudge the steep angle of the driveway and reverse over a retaining wall and into a palm tree. They abandoned the car and left on foot.
After the men had gone, Smit managed to free his legs and, with hands still bound, headed to his next-door neighbour in search of help.
Meanwhile, Magdalene Smit had also managed to get out of the house and began to scream for help in their garden, alerting other neighbours across the road – who untied the bruised couple and contacted IPSS Security and IPSS Medical Rescue and the police.
The couple sustained minor injuries as a result of the cable-ties used to bind them, as well as assorted bruises and scratches from their rough treatment.
However, they were deeply shocked by their ordeal.
Magdalene Smit was distraught. "We are peaceful people. Why were they so violent? Why?"
The couple spent the night with one of their neighbours and their daughter, who lives in Pretoria, flew down on Tuesday morning to take care of her parents.
It is not known how the robbers gained entry to the house, as there were no signs of forced entry and all the doors were locked. They made off with a pistol, airgun, cellphones and keys.
 http://northcoastcourier.co.za/68799/nightmare-ordeal-for-ballito-pensioners/
23  #FARMATTACK - Shakaskraal Farmers Held At Gunpoint
The misfire of a robber's gun saved the life of a local man in a terrifying home invasion on a farm outside Shakaskraal, near Ballito this morning.
Bruce Meikle, the nephew of home-owners Dave and Annie White is being treated at Netcare Alberlito hospital.
At about 8am five armed men forced their way into the White's home,
Only Annie and two domestic workers were in the house. The men roughed the women up, demanding cash, firearms, and the White's panic button – to prevent them from alerting their security company.
For about two hours the intruders held the three women hostage, waiting for Dave to return to the house from his nearby workshop for his business Tomcat Boats and threatening that "you will never see your children again."
Shortly after 10am Dave returned to the house with his nephew Bruce, only to find the robbers lying in wait.
One of the men put a pistol to Meikle's chest and pulled the trigger. Miraculously the gun misfired – but the shock caused Meikle to experience what they think was a heart attack.
The pair were further assaulted and together with the other hostages, were forced into the walk-in safe in the house.
"It is because of your president, president Zuma, that we must steal," one of the men said to White during the ordeal.
After about 20 minutes the men fled in the White's 1984 Toyota Corolla, with an undisclosed amount of cash, a pistol and cell phones.
After which Meikle was able to phone for help.
The Whites expressed their sincere thanks to Alpha Security and Patrols and the SAPS for the speed with which they responded.
http://northcoastcourier.co.za/68790/zumas-fault-says-thief/
24  #FARMATTACKS -Two Farm Attacks In Free State Within Hours
Police and farmers in the Smithfield district have launched a manhunt for four suspects who are on the run following a second farm attack in the Free State this morning.
They are believed to have ambushed a farmer outside his farmhouse near Smithfield this morning. This follows an attack on an elderly couple and another woman on a farm outside Bothaville about 350km away.
Smithfield's Agriculture Associations' safety coordinator, Hugo Pretorius, says the farmer left his house in the early morning hours when four men, one wearing a red jacket, ambushed him. He escaped unharmed. The suspects, who are believed to be armed, fled on foot.
Pretorius says the rural safety plan has been activated. All roads in the area towards Bethulie have been blockaded. Bothaville Agricultural Organisation's safety coordinator, Johan du Plessis, says in the first attack six men gained entrance to a farmhouse just after 02:00 this morning.
They tied the couple and a woman up with duct tape and demanded the safe's keys. A firearm and money were taken. Two of the suspects were armed.
They fled the scene towards Orkney in a silver Volkswagen belonging to the victims.
http://www.bloemfonteincourant.co.za/two-farm-attacks-free-state-within-hours/
25   Rowers Oorval Gesin - Mokopane
 'n Gesin is erg getraumatiseerd nadat hulle Woensdagoggend by hulle huis in die dorp deur vyf gewapende rowers oorval en van R80 000 asook hul Volkswagen Kombi, Isuzu bakkie, twee vuurwapens en huishoudelike items beroof is.
Mokopane polisiewoordvoerder, sersant Irene Masingi het in haar korrespondensie met Noordelike Nuus gesê die man van die gesin is 05:00 die oggend uit die huis om hulle onderneming in die dorp vir die werknemers oop te sluit toe hy skielik deur vyf gemaskerde mans oorval, aangerand en terug in die huis gedwing is. Die verdagtes was gewapen met twee handwapens en twee messe.

Die gesin se twee kinders, 3 en 8 jaar oud, is in die huis se badkamer saam met hulle pa, wat vasgebind is, gelos. Geld is van hulle ma geëis. Sy is in die gesig geslaan nadat sy met geen geld vorendag gekom het nie. Die verdagtes het haar gedreig. Sy het toe, volgens die polisie verslag, met een van die mans na die gesin se besigheid gery waar sy die geld gaan haal en vir hom gegee het. Die verdagte het met die vrou se Volkswagen ontsnap.

Sy het een van die besigheid se voertuie gebruik, die sekuriteitsmaatskappy ontbied en huis toe gery.

Na haar aankoms by die huis is sy ingelig dat die ander verdagtes met haar man se Isuzu op die vlug geslaan het. Reaksielede van die Suricat Sekuriteit het haar man losgemaak en die gesin bygestaan.

Die voertuie is later verlate deur die polisie onderskeidelik op die N11 en in Parkmore, Gauteng, gevind.

Die polisie doen 'n beroep op enige iemand met inligting wat hulle kan help met hul ondersoek in die saak om vir kaptein Smith te kontak by 082 565 8277.
 http://www.noordnuus.co.za/articles/news/38701/2016-09-14/rowers-oorval-gesin-
26   #FARMATTACK  -  Koedoeskop Near Soetdoorns
A Woman and her children were overpowered and tied bu 4 black terrorists during the early hours of the morning.
The fled with the family's Ford Ranger Double Cab which has since been recovered.  The family did not sustain serious injuries.
Names will not be revealed.
27   Inbrekers Slaan Bejaarde So Hard Dat Hy Bloed Opgooi
Die voorval het plaasgevind toe drie inbrekers toegeslaan het op 'n bejaarde egpaar se huis in Bertie Meyer Singel, Minnebron.
Volgens die egpaar se 40-jarige seun, het sy ouers ongeveer 4.30vm wakker geword van 'n lawaai by die agterdeur.
"My pa (65) het gaan ondersoek instel en gesien dat die agterdeur en veiligheidshek oopgebreek was."
"My ouers het die SAPD, wat redelik gou opgedaag het, gekontak en die lede het die erf en die huis deursoek, maar daar was geen teken van die inbrekers nie."
Volgens die seun het sy pa homself daarna gereed gekry vir werk en was hy om 5.30vm in die kombuis besig om sy ontbyt te eet.
"My pa is heeltemal onkant betrap toe drie mans by die agterdeur ingebars het."
"Een het hom dadelik hard met 'n breekyster oor die kop geslaan."
"My pa is daarna na die sitkamer geneem waar sy hande met die telefoon se draad vasgebind is."
"Een van die inbrekers het na my ma, wat nog geslaap het, se kamer gegaan en haar beveel om uit die bed te klim."
"Sy is ook na die sitkamer geneem waar haar hande en voete vasgebind is."
"Een van die mans het by my ouers gebly terwyl die ander twee waardevolle items asook elektriese ware op my ouers se Corsa bakkie gelaai het."
"My ma moes vir hulle sê waar die sleutels van die voertuig en die hek is en hulle is vort met die bakkie en die gesteelde goed," het hul seun vertel.
"My ma kon daarin slaag om haar hande en voete los te maak, waarna sy na buite gegaan het."
"Bure van hulle was op pad werk toe en sy kon hulle selfoon gebruik aangesien my ouers se fone ook gesteel is."
Die huiseienaar is na 'n plaaslike hospitaal geneem en is later oorgeplaas na die neurologiese eenheid van 'n hospitaal in Benoni.
"My pa het harsingskudding opgedoen en moes ook steke aan sy kop kry om die wond te heg."
"Dit gaan beter met hom alhoewel hy ook sukkel met die gehoor in sy een oor."
Die voorval word deur die SAPD ondersoek.
• Die name van die slagoffers asook hul seun is bekend, maar word om veiligheidsredes nie gepubliseer nie.
http://brakpanherald.co.za/137728/inbrekers-slaan-bejaarde-so-hard-dat-hy-bloed-opgooi/?utm_content=bufferef8d1&utm_medium=social&utm_source=facebook.com&utm_campaign=buffer
MORE ATTACKS ON WHITES BY BLACK THUGS THIS PAST 30 DAYS
White farmer attacked in Nylstroom
White family attacked in their home at Sasolburg
White family attacked in Pretoria
Elderly white man brutally attacked in Johannesburg
White man shot to death in Durban robbery
White farmer attacked at Brandford farm
Elderly couple brutally attacked in Skeerpoort
White boy listens as he's parents are being shot
White woman being stabbed at St. Michael's beach Durban
White farmer being stabbed at his farm gate in Harrismith
Elderly white woman raped in Frankfort
White family brutally hacked to death in Melmoth
White male executed as he tries to protect his girlfriend
IRONICALLY THEN YOU GET A WHITE JUDGE THAT FINES A WHITE MAN R 16 666.00 FOR USING THE TERM "K*FFIR"-  WHILE MOST OF THE MURDERS OF THESE WHITES ARE STILL WALKING AROUND FREE!! CONCLUSION: BRUTAL ASSAULTING OR MURDERING A WHITE IN SOUTH AFRICA  IS A MUCH LESSER OFFENCE THAN USING THAT "DREADFUL K-WORD!
WN/Pretoria