A study conducted by American medical professionals using data from the World Health organisation and Cambridge University's Small Arms Survey, found the top countries with the most guns per 100 people and total firearm-related deaths per 100,000.
The key focus of the study was on the USA, and its hotly contested debate surrounding gun control, using data from 2010-2012. While the result showed USA to top the list in both ownership per 100 and deaths per 100,000, (South Africa being second), USA was only 8th when looking at deaths per gun, coming below countries like New Zealand, Luxembourg, Belgium, Malta, Portugal and even Israel.
However when looking at South Africa for Deaths per Gun it was THREE times higher than any other country, with Israel coming in second and Portugal third.
South Africa has the second highest rate of gun-related deaths in the world and nearly half of all homicides in SA are by firearm, a statistic which has remained the same for well over a decade. This was backed by the survey which also found that South Africa is the country to have the second highest rate of gun-related deaths in the world at 9.4 deaths per 100,000 people.
That statistic is made worse by the finding that South Africa only has the 16th highest number of guns per 100 people at 12.7.
Sitting at the top of two lists is the USA, with 88.8 guns per 100 people, and a prevalence of 10.2 fire-arm related deaths per 100,000 people (this went up to 10.4 in 2013), yet its Death per Gun is down in 8th place.
Countries with the highest gun-related deaths (2012) ranked by Deaths per Gun.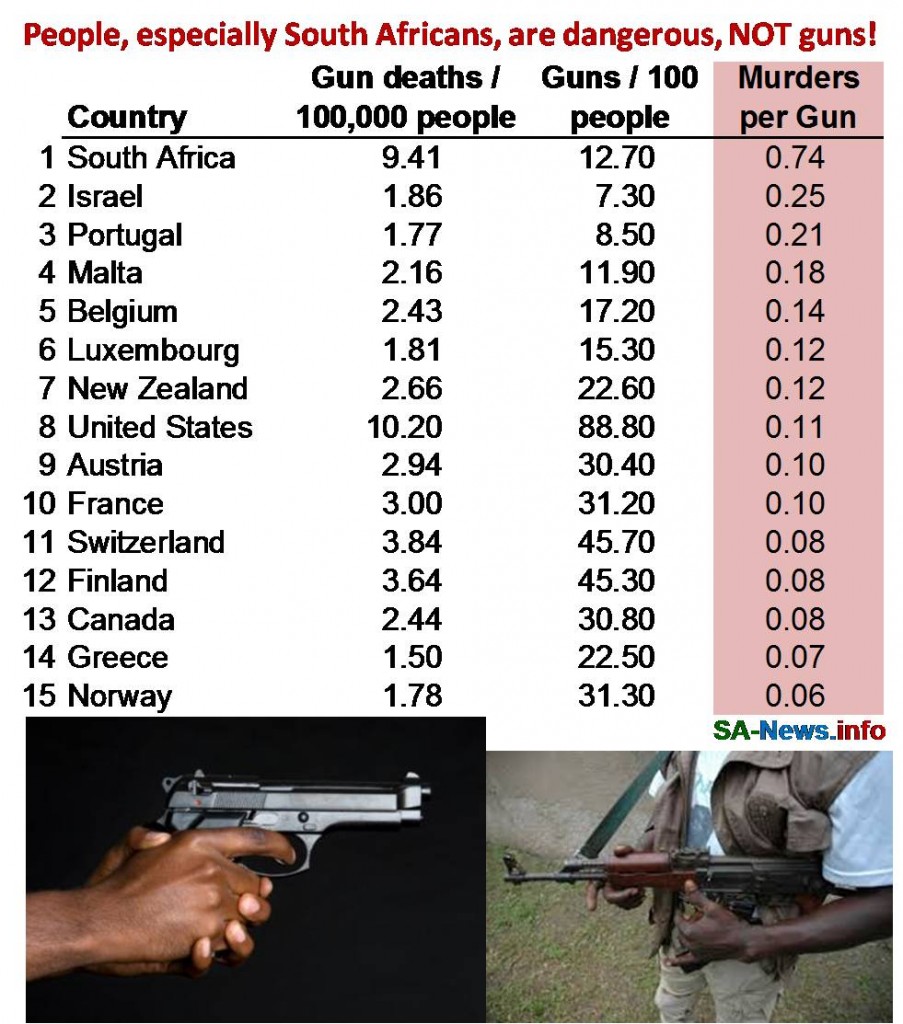 South Africa was recently rated as the 8th most violent country in the world, with a violent murder rate of 31 per 100,000 people.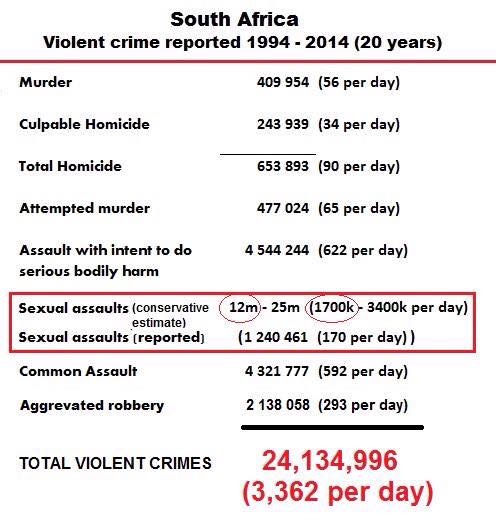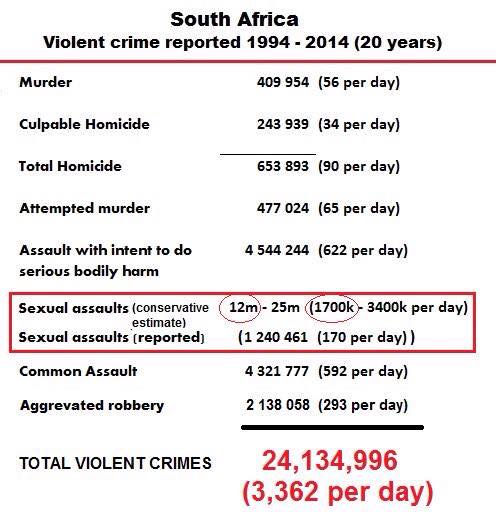 According to the Small Arms Survey, since 1994, homicide rates in South Africa have remained among the highest in the world despite a small  decline (if government stats can be believed, which is questionable, given Zuma's request that the media not make SA look bad).
The group found that there is a positive correlation between the partial implementation of the Firearms Control Act (FCA) of 2000 and a reduction in firearm homicides.
"But better implementation of the law could further reduce levels of firearm homicides," it said.
According to the SAPS and the Institute for Security Studies, homicides decreased from 66.9 per 100,000 in 1994 to 30.9 in 2011–12.
However, rates above 30 per 100,000 are typically observed in countries at war or with serious ongoing crises.
In 2000, the SAPS stopped providing data on the percentage of homicides committed with firearms, but pre-2007 data, as well as information from other sources, have corroborated the information published in the study.
These other sources include data on fatal injuries from medico-legal laboratories and state forensic laboratories from The National Injury Mortality Surveillance System (NIMSS).
One massive caveat to the data on gun ownership is the unreliability of countries' capacity to keep record of illegal guns, but the researchers noted that their findings seemed "reasonably" on par with previous research….