Nobel Laureate Dalai Lama denied visa to SA for a third time
CAPE TOWN, Sept 4 — South Africa has refused to grant a visa for the Dalai Lama to attend the World Summit of Nobel Peace Laureates in Cape Town next month, his representative said today.
The government "conveyed by phone to me they will not be able to grant the visa for the reason that it would disturb relations between China and South Africa," Nangsa Choedon told AFP.
The refusal could see a boycott by other laureates of the 14th annual peace summit, a spokesman for South African laureate Archbishop Desmond Tutu said. — AFP
This is the third time the South African ANC Government has caved-in and obeyed China's wishes.
His Holiness had been invited to attend the 14th World Summit of Nobel Peace Laureates next month, for the first time being held in Cape Town, the Cape Times reported.
The summit is being arranged by a local organising committee formed by the foundations representing the four South African laureates, Archbishop Emeritus Desmond Tutu, Nelson Mandela, FW de Klerk and Albert Luthuli.
The Dalai Lama's representative in South Africa says the international relations and co-operations department had contacted her in the past week to say he would not be granted a visa.
When asked by News24 for comment, the international relations spokesperson, Nelson Kgwete, refused to speak on the matter and said all statements would come from the department's top spokesperson, Clayson Monyela, who is currently on business in China.
In February, the Chinese government had reacted in anger as Barack Obama ignored their request to not meet with the exiled Tibetan leader.
In April, Norwegian authorities were left torn between a planned visit by the Dalai Lama to Oslo and warming up its chilly ties with China, AFP reported.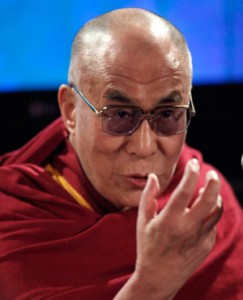 His Holiness the Dalai Lama (Charles Rex Arbogast, AP)
---
Related Links: