1.  #FARMATTACK:  Couple Attacked On Port Edward Farm
The farmer (64) and his wife (59) had been to visit friends and arrived home at their farmhouse at around 8.45pm.
"When they entered, they noticed the house had been ransacked," said police spokesman, Captain Gerald Mfeka.
"When the husband went to check another room, he was approached by a man armed with an axe. The intruder tied the man up, while a second suspect tried to rape the woman. The husband managed to untie himself and ran for help. Both suspects fled."
Property belonging to the couple was later found in the garden.
A case of house robbery and sexual assault is being investigated by Port Edward detectives.
South Coast Herald
2.   Farmer – Lourens Van der Schyff Attacked And Beaten By 10 Black Attackers – Mpumalanga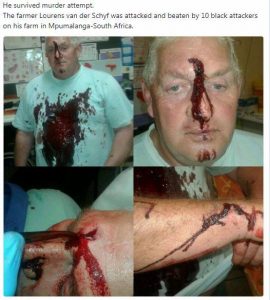 By:  Derick Williams
3.  #PlAASAANAVAL – Morgenzon
Soos ontvang
Daar was vandag om 7:45 n voorval in ons omgewing. Die man was in die veld met sy Motorfiets en die vrou het uit die huis gegaan om iets uit die voertuig te kry. Met terugkom is die vrou aangeval deur n Swart man.
Hy wou geld ens he en het die vrou vir hom gewys waar als in die huis is. Sy het probeer weg hardloop toe hy haar oor die kop slaan. Hy het die motorfiets gehoor terugkom en weg gehardloop.
Ek sien die nie as n roof nie maar as n aanval. Want die Vrou is aan gerand. Hulle was in skok en kon my eers 9:05 laat weet van die voorval
..as iemand kan bevestig asb?
Deur:  Zaskia Magda Conti/Boere Krisis-Aksie
4. #PLAASAANVAL – Bokfontein – Brits.
[08-01 10:16] ‪Plaasaanval/gewapende roof. gistraand op Bokfontein.
Verskeie elektroniese items is geroof.
Die man het beserings opgedoen in voorval maar gelukkig nie te ernstig nie. Hele gesin is en erge skok.
Ambulansdienste het beseerdes op toneel behandel.
Verdagtes se spoor is gevolg tot teerpad en van daar verloor.
Boere Krisis-Aksie
5.  Aanval Op Jongman – Sasolburg
So lyk my kind, en hy het net gaan swem. Drie 3 swart adders hom besteel en aangerand. Dis poging tot moord.
Deur:  Magda Kruger
6.  Boef Vas Na Gyselaarsdrama Op Plaas In Brandwag

Die 39-jarige man wat sedert vroeg vanoggend op 'n plaas in Brandwag eers in die plaashuis en toe later op polisie-, asook noodvoertuie wat op die toneel aangekom het gevuur het, is in hegtenis geneem. Dit volg nadat die polisie se taakmag hom kort na 18:00 in die plaashuis waar hy geskuil het, oorrompel het, het die Suid-Kaapse polisiewoordvoerder, kapt Malcolm Pojie sopas bevestig.
Die man se gesinslede wat saam met hom op die plaas was is ongedeerd na veiligheid geneem vroeer vandag, maar was volgens inligting tot en met die man se in hegtenisname op die toneel.
Volgens kapt Pojie sal die man tereg staan op verskeie aanklagte van poging tot moord en kwaadwillige saakbeskadiging nadat hy op polisielede, nooddienswerkers, asook hulle voertuie losgebrand het.
"Die man bly in aanhouding tot hy later vandeesweek voor die hof gebring kan word. Daar word tans deur die polisie ondersteuning gebied aan die familie en ook aan enige lede betrokke by vandag se gebeure om die trauma te help verwerk," berig kapt Pojie.
Daar is geen beserings aangemeld nie.
Polisie op die toneel.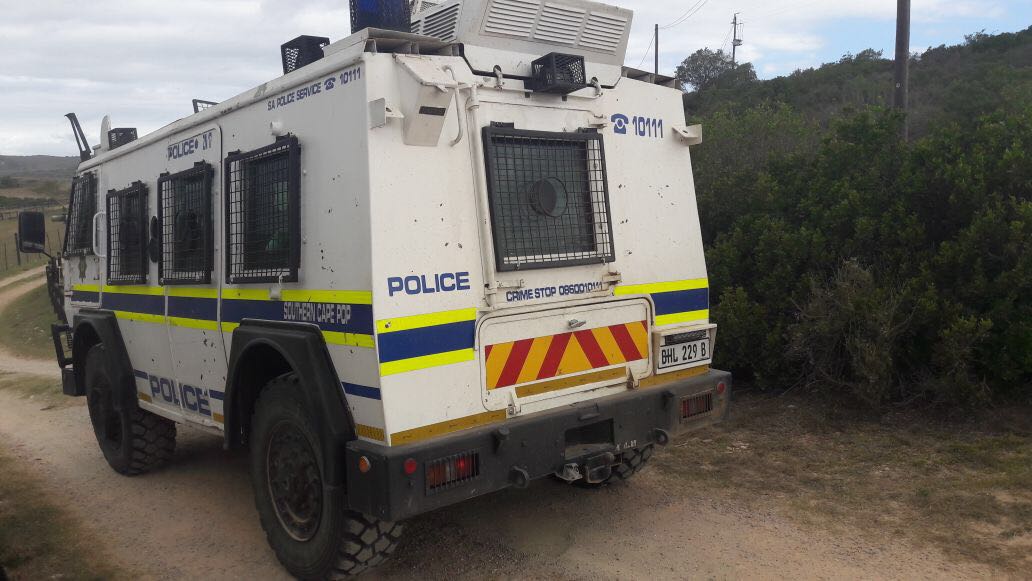 Die 39-jarige man wat sedert vroeg vanoggend op 'n plaas in Brandwag eers in die plaashuis en toe later op polisie-, asook noodvoertuie wat op die toneel aangekom het gevuur het, is in hegtenis geneem
Deur:  Mossel Bay Advertiser
7.  #FARMMURDER – Jan Kempdorp.
Attie Jooste stabbed to death.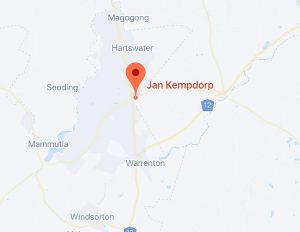 By:  Ian Cameron
8.  Man En Sy Vrou Aangeval – Man Oorlede
Verlede Saterdagoggend is daar 'n man en sy vrou in Welkom aangeval. R.I.P Francois. Gebede en sterkte vir sy vrou en die familie.
Ek plaas nie die foto wat Frik gestuur het nie, dit is TE sensitief.
"Goeienaand.  n Familielid is Saterdag in die vroee oggendure in sy huis in Welkom aangeval.  Hy het Sondagoggend in Bloemfontein aan sy beserings gesterf.   Sy kop was met n piksteel vergruis en is ook in sy long gesteek.
Sy vrou is in Welkom Hospitaal nadat sy ook met 'n mes gesteekis.  Die oorledene se naam was Francois Potgieter"
Deur Frik Roets/Boere Krisis-Aksie
9.  Jongman In Gesig Geskiet Tydens Motorkaping – Pretoria/Rustenburg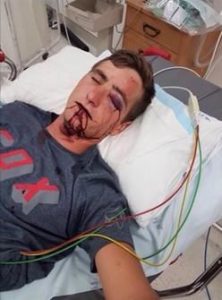 Ons vra verskoning vir die foto. Dit is dalk nie vir sensitiewe kykers nie…
Daar is 'n jongman Vrydagaand in Pretoria/ Rustenburg geskiet in 'n kaping. Ons vra gebede vir hom. Die koeël sit nog agter sy oog vas. Sterkte vir hierdie man se gesin.
"Hello.. Mense wat ek ken se seun gisteraand geskiet in highjacking in Pretoria. Gaan nie goed met hom nie. Sy naam is Wayne Esterhuizen"
Deur:  Zak En Elmarie Kleynhans/Boere Krisis-Aksie
10.  #PLAASAANVAL:  Plaasvoorman In Jan Kempdorp Vermoor
Daar is 'n man in Jan Kempdorp vermoor gisteraand. Hy was blykbaar 'n plaasvoorman. Ek laat sy naam uit totdat die aanval bevestig is.
"Axxxx Jxxxxx gisteraand in sy huis op 'n plaas by Jan Kempdorp vermoor.  Geen verdere inligting beskikbaar.
Sy familie is op pad daarnatoe.   Hy het alleen gebly."
Bevestig:
Ons buurman is vanoggend op n plot by Jan Kempdorp in die Noord Kaap vermoor. 3 verdagtes is gevang
Deur:  Kobus Oosthuizen/Boere-Krisis Aksie
11.  #PLAASAANVAL:  Plaasaanval by Bronkhorstspruit.
Egpaar wil onbekend bly….
BRONKHORSTSPRUIT
Januarie 2018
Ongeveer 1:30-2:45:00vm
( *Regte name word weerhou*)
Petro het wakker geword van geluid van kasdeur wat teen hul kamerdeur slaan. Daarna is sy en Danie verblind met 3x aanvallers se kopligte wat in hul oë skyn, en is onmiddelik met onbekende harde voorwerp aangerand.
Petro se hande is met kabelbinders vasgemaak, en Danie se arms was te groot, sodat hul kettings en broeke gebruik het om hom vas te bind. Daar is ten minste 2x skote afgevuur, waartydens wapen gestoor het, sodat skote nie afgegaan het nie.
3x aanvallers waarvan ten minste 1x gewapen het Danie en Petro sleg aangerand, en geld en diamante en skootrekenaar van Petro ge-eis.
Petro en Danie het deurentyd hardop gebid.
Aanvallers het presies geweet waar sy haar skootrekenaar wegsteek
🛑Die egpaar het baie honde, binne en buite die huis. *geen honde het geblaf nie*

🛑daar is 2x ander huise op die erf, geen van die bure het iets gehoor nie.

🛑drade is reeds verlede naweek geknip by Danie, asook by sy buurman.

🛑volgens spore het aanvallers tevoet die huis genader, en ook verlaat.
Elektroniese ware, selfone en kontant is gebuit
Die egpaar kon hulself teen 5uur bevry, waarna hul hulp by bure gekry het.
Danie en Petro het albei skedelfrakure opgedoen, en het inwendige beserings. Hul sal die volgende paar dae aansterk in intensiewe sorgeenheid van pretoriase hospitaal, voordat hul albei operasies kan ondergaan, om skade te herstel.
*Weerhou asseblief die uitstuur van foto's van die slagoffers. Dit word tans teen hul wense rondgestuur.*
Vordering van pasiente sal deurgegee word. Bid asseblief saam vir volkome herstel
🙏🏻
*#BHSVeiligheid
🙋🏼*
12.  Woman attacked and raped while jogging – Mombela
A 68-year-old woman was attacked and raped on Thursday morning while jogging.
Acting police spokesman, Lt Col Erard Stroh, said the woman was running at about 08:30 on a road near a river when the suspect attacked her and dragged her into the bushes and raped.
Divergent Ops' Jacques Meiring said they had responded to the call. After receiving information regarding the suspect, the team, within a matter of minutes,  tracked the suspect down and apprehended him. "We found him on the N4 not far from the scene."
ER24 branch manager, Greg Wilcox, said the woman was treated for lacerations to her arms and for skin abrasions on her back. She was transported to Rob Ferreira hospital.
The suspect is set to appear in the Nelspruit Magistrate's Court on Monday.
Lowvelder
13.  Partner Of Fatally Wounding Mourner At Funeral Attacked By 2 Or 3 Thugs
The partner of the man facing charges of murder following the fatal shooting of a mourner at a funeral last week has been left hospitalized after an attack at her home.
Marie Louise Vucher was allegedly attacked on Thursday afternoon by two or three suspects in her home in the KwaZulu-Natal Midlands while she was alone at home taking a nap.
Captain Gay Ebrahim told News24 on Friday that Vucher was in a stable condition in hospital.
Ebrahim said it was too early to speculate on the motive for the attack on the woman who is said to be in her 60s, saying that police investigation are still underway.
"It was after 15:00 when an unknown number of assailants entered her home and beat her severely. She sustained facial and head injuries and was hospitalized and treated. She is said to be in a stable condition at a local hospital," said Ebrahim.
Vucher's partner, 66-year-old Edward Phillip Solomon appeared at the New Hanover Magistrate's Court earlier this week on a charge of murder.
He is accused of shooting and killing his 42-year-old employee Mothiwa Ngubane, at Otto's Bluff on Saturday following an altercation at a funeral.
Ngubane died on the scene after sustaining gunshot wounds to his upper body.
Solomon allegedly fled the scene in his vehicle but was later arrested and found in possession of two rifles, a toy gun and, a 9mm pistol.
Solomon's formal bail application is expected to be heard next week.
Ebrahim said no suspects had been arrested
Boere-Krisis Aksie
14.  #FARMATTACK:  Elderly Lady (79) Stabbed To Death On Farm – Cramond – Albert Falls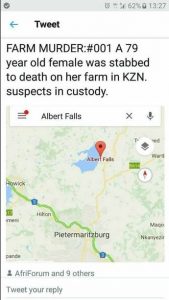 Condolences to the family. May She Rest in Peace.
MURDER – Female victim (78) stabbed to death in her house on a farm outside Cramond.
Suspects fled with a TV, mobile phone, and handbag.
The Police and community detained 2 suspects aged 26, and 28 (KZN, Cramond, farm)
Willshir Security
15.  #PLAASAANVAL:  Twee Bejaardes Op Kleinhoewe Aangeval – Grahamstad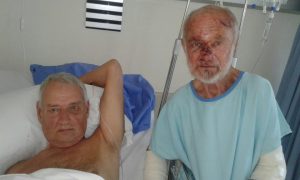 Koekoe en Vernon is op 4 Januarie 2018 op hulle kleinhoewe buite Grahamstad aangehou en aangerand.
Hulle is nog in Setlaarshospitaal.
Twee van die vermeende inbrekers is aangekeer nadat hulle deur HiTec en die Polisie aangekeer is