In 2009, the Dutch justice ministry announced the planned closing of eight prisons in the Netherlands due to a declining crime rate which was expected to continue.
In 2013, a staggering 19 prisons were scheduled to be closed. This is caused, in part, by a continued decline in crime rates. Additionally, those who are convicted are choosing electronic tagging instead of incarceration. This allows people to go back to work and continue as productive members of society. It also saves about $50,000 per year per person (about $50 million saved per year for every 1000 people).
Johnson County and the Netherlands have something in common. The average incarceration rate in the Netherlands is about 163 people per 100,000. (Source) In Johnson County, we have about the same rate of incarceration – slightly lower. (Source: 2012 Annual Sheriff's Report – PDF)
Counties and countries with low incarceration rates typically take a different approach to criminal justice and their investment in social services.
In the Netherlands, for example, the focus is on "deterring and mitigating crime" as well as "sanctioning those who violate laws with … rehabilitation efforts." (Source)
This is similar to the approach taken in Johnson County with jail alternatives and investing in local social services. The county recently invested approximately $2.3 million into a portfolio of local organisations that have demonstrated a history of success with improving the quality of life in Johnson County.
While progressive drug laws in the Netherlands may be partially the reason for a decline in arrests, other social factors are also at work. This points to crime reduction through changing social behaviour as a key to reducing incarceration — rather than just changing the laws or telling the police to stop arresting people as a method for artificially creating the perception that there's less crime.
Amid the huge flow of migrants into Europe, several unused Dutch prisons have been temporarily used as asylum seeker centers.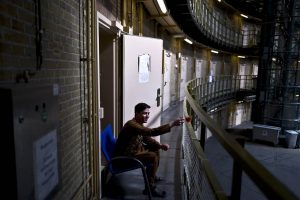 1.  Afghan refugee Siratullah Hayatullah drinks tea by the doorway of his room at the former prison of De Koepel in Haarlem, Netherlands.
With crime declining in the Netherlands, the country is looking at new ways to fill its prisons. The government has let Belgium and Norway put prisoners in empty cells and now, amid the huge flow of migrants into Europe, several Dutch prisons are being used temporarily as housing for asylum-seekers.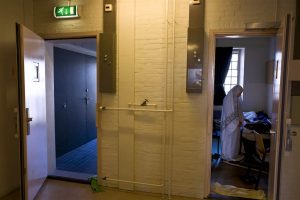 2.  Amid the huge flow of migrants into Europe, several unused Dutch prisons have been temporarily used as asylum seeker centers.
Most of the 12 former prisons and jails housing asylum seekers have been so transformed that they are barely recognizable as former places of involuntary detention, though in some cases the thick cell doors and bars on windows are stark reminders of the past.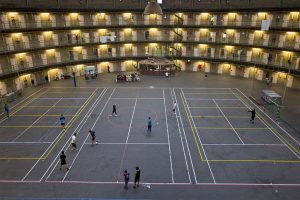 3.  Refugees and migrants play football at the former prison courtyard of De Koepel.
Prisons in the cities of Haarlem and Arnhem, with their distinctive domed roofs and circular galleries of cells around a central covered courtyard, are considered national monuments and cannot be renovated.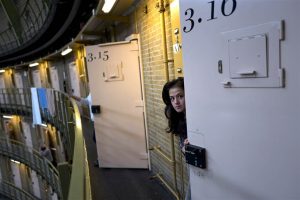 4.  Afghan refugee Shazia Lutfi peeks through the door of her room, a former prison cell.
"We had to think twice about using prisons with (cell) doors," said Janet Helder, a board member with the Dutch government agency responsible for housing asylum seekers.
"Some people in the neighborhood asked, 'how can you put people from Syria who may have been imprisoned there in a cell here?' So we decided that if people really have a problem with it, we will find somewhere else for them."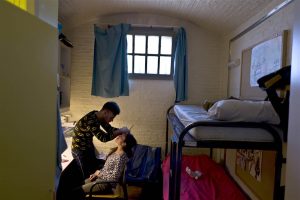 5. Yazidi refugee Yassir Hajji from Sinjar, Iraq, was a barber back home and wants to learn Dutch so that he can pick up his trade again. He keeps his skills sharp by giving Gerbia, his wife, an eyebrow shaping in the cell they share on the third floor of the Haarlem prison.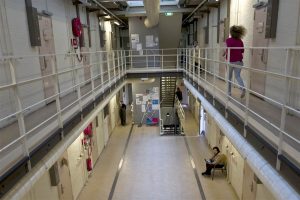 6.  A migrant sits outside her room while another runs in the corridor of the women section of the former prison.
The prisons often are well suited to their new use, Janet Helder said. Her organization currently is housing some 41,000 people at 120 locations throughout the Netherlands.
"The rooms are intended for one or two people, there are often gyms, a good kitchen," she said. "So in that sense, they tick many of the boxes we are looking at."