South African minority facing genocide incited by government
"My dad was so beloved by people in the community; he was friends with everybody, he was a legend," Van Wyk said.
Holding back the emotion, Van Wyk compared it to a shark attack.
"It's so brutal, when this happens to your family members, something dies within you, you just can't believe it."
Two years after her father's murder, "by the grace of God," she is starting to put the pieces back together and move on with life.
"But the effect on my body; your hair falls out, it crushes you emotionally, physically, spiritually," she said. "The children who are left behind, I don't think they can ever be whole again, because part of you has been ripped out – it's like something you carry with you for the rest of your life."
Farm Murders Explode
In South Africa, where political leaders routinely sing genocidal songs and demonize the white Christian Afrikaners as the source of all that ails the nation, Van Wyk's story is common.
In fact, last month saw a new record of the number of farm attacks and farm murders, known as "plassmoorde" in Afrikaans, the language of Afrikaners who are descended from Dutch, French, German and other Christian Europeans.
According to Carte Blanche, an investigative news program on South African television, there were 16 recorded murders in 46 gruesome farm attacks across South Africa in February alone.
And even that may underestimate the total, as the government buries and conceal the data, often classifying the murders and tortures as "robberies."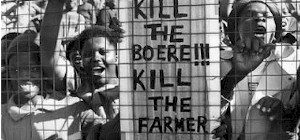 Others who have studied the issue, such as specialist investigator Mike Bolhuis of Project Farm Murders, say the numbers are as high as two to three farm murders per day.
The government also refuses to compile crime data based on race, further obscuring the truth about the extent of the problems.
Since the early 1990s, when white South Africans voted in a referendum to surrender power, the estimates of farm murders range between 2,000 and 4,000.
A monument to the victims features thousands of white crosses on a hill side.
Police figures show there have been some 15,000 farm attacks in that time period.
Some blacks have also been killed in farm attacks, though the torture and brutality appears to be largely absent.
There have been dozens of recorded farm murders so far in 2017, an average of one farm attack per day, according to South African media reports.
White South African farmers are between two and three times more likely to be murdered than even South African police officers.
They are also more likely to be killed than U.S. troops serving in Iraq or Afghanistan.
Other Farm Murders
The horror of many of the attacks make the murder of Van Wyk's relatives look tame by comparison.
In one case last month that received international attention because the victims were British, a married couple was tortured for hours on their South African farm.
Among other horrors, the attackers tied up the victims, 64-year-old Sue Howarth and 66-year-old Robert Lynn, and tortured them for hours with a blowtorch.
A plastic bag was stuffed down Howarth's throat after her breasts were burned beyond recognition, while her husband had a bag tied on his head and was cut up with a knife.
After hours of torture, the two victims were thrown in the back of their pickup truck and dumped on the side of the road. Both were also shot.
Another victim attacked last month was farmer Trevor Rees, who was tortured on his farm in southern Drakensberg.
He was forced to drink bleach, attacked with pliers, beaten for days and finally shot.
In yet another farm attack, this one in early March, an elderly woman was tortured with a power drill, with the attackers drilling holes in her while she was still alive.
As with so many victims of the farm attacks, she was left lying in a pool of her own blood.
Terrorists burst into a house of worship. The lives of your family and friends are at stake. What will you do? How will you react? Will you have the courage to shoot back? A survivor of one of the worst terrorist attacks in history shares his incredible story in "Shooting Back," now available in the WND Superstore.
In one farm attack in Parys that was recently brought up by the Afrikaner-dominated Freedom Front Plus Party in South Africa's Parliament, a farmer's testicles were cut off, cooked and eaten by the attackers.
Last March, 9-year-old Kayla Meyer was among the victims of a farm attack. The girl was beaten until she died of blunt trauma to the head.
Before that, the entire Potgieter family, including 2-year-old Wilmien, was savagely tortured to death on their farm.
Raping wives and children while the husbands and fathers are forced to watch is commonplace in the farm attacks.
Bibles are sometimes left on the victim's mutilated bodies in what experts say is a sign of genocidal hatred.