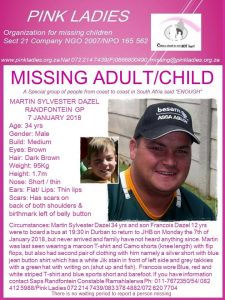 MARTIN SYLVESTER DAZEL – 34 years and son FRANCOIS DAZEL 12 years have been missing since 7 January 2018.
Circumstances: Martin Sylvester Dazel 34 years and son Francois Dazel 12 years were to board a bus at 19:30 in Durban to return to Johannesburg on Monday the 7th of January 2018, but never arrived and family have not heard anything since.
Martin was last seen wearing a maroon T-shirt and Camo shorts (knee length) with flip-flops, but also had a second set of clothing with him, namely a silver short with blue jean button shirt.  The shirt has a white Jik stain in front of left side and grey takkies with a green hat with writing on. (Shut Up And Fish).
Francois wore a blue, red and white striped T-shirt and blue sports short and he was barefoot.
If you have information contact Saps Randfontein Constable Ramahlalerwa Ph: 011-7672350/54/ 082 412 5988/Pink Ladies 072 214 7439/083 378 4882/072 620 7704