Economic Freedom Fighters leader Julius Malema has tweeted that he's under attack from what he calls a kleptocratic state.
He says someone is trying to hack into his email account and he can't retrieve any emails at the moment.
Malema's tweet is accompanied by a screen grab, with a warning from Google that 'government-backed hackers' may be trying to steal his password.
The warning says Google can't reveal what tipped it off to the suspicious activity as this might lead the attackers to change their tactics.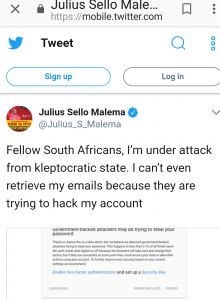 Never a dull moment with small minded Malema. Why would the kleptocratic state want to hack his emails?
---