Berning Ntlemeza is apparently missing with state possessions after unlawfully reporting for duty this morning.
Sacked Hawks boss Berning Ntlemeza reported for work this morning despite being told he had been relieved of his duties.
Ntlemeza was seen entering the headquarters of the Hawks in Pretoria through the back gate to avoid the main entrance. Minister of Police Fikile Mbalula held a briefing concerning Ntlemeza's misdemeanor.
The minister said Ntlemeza went missing with a car that was given to him as part of his work and it was "roaming around the streets of Pretoria or wherever he is this afternoon. And he's got a cellphone of government and the state in his possession and whatever that he's got".
EFF leader Julius Malema also posted a photo of Ntlemeza on social media, calling for the public to look out for the "thief".
He tweeted: "South Africans pls help to locate this crook, he is in possession of state vehicle and cellphone without authorization, wa nya tsotsi…"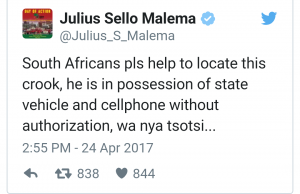 ---