Lest We Forget: Today, 33 years ago, NELSON MANDELA MURDERED 17 Innocents. He admitted approving the Church Street bomb in his autobiography.
Terrorist Mandela's Church Street bomb on 20 May 1983
A powerful car bomb placed by MK Operatives exploded outside the Air Force Headquarters building in Church Street, during the afternoon rush-hour period, killing 17 innocents. Another 197 were wounded in the explosion that also killed the two MK Operatives who had placed the bomb.
We Remember Those killed:
Mrs Sharon Desire' Bos
Mr Pedros Ntemo Kohliwe
Mr Sekgoeti Jim Magatsela
Mr Jonas Tomy Mahlahlo
Mr Lengoi Moses Maimela
Mr Mogale Juda Maimela
Mrs Adriana Johanna Christina Meyer
Mr Stephen John Page
Mr Joseph Keane Sambo
Mr Louis Marthinus van Jaarsveld
Stefanus Sebastiaan Walters. He was 43
Johan de Villiers. He was 47
Izak Johannes Henning. He was 60
Rian Hendrik Liebenberg. He was 26
Jacob Johannes Ras. He was 38
Anton Nel. He was 22.
Wayne Lawrence Kirtley. He was 19. (NOTE: The force of the blast hurled the body of Kirtley across the intersection where it hit a lamp post before landing on a balcony of a residential flat. His body was only found the following day).
In submissions to the Truth and Reconciliation Commission (TRC) in 1997 and 1998, the ANC revealed that the attack was orchestrated by a special operations unit of the ANC's Umkhonto we Sizwe (MK), commanded by Aboobaker Ismail. Such units had been authorised by Oliver Tambo, the ANC President, in 1979. At the time of the attack, they reported to Joe Slovo as chief of staff, and the Church Street attack was authorised by Tambo.
Ten MK operatives, including Aboobaker Ismail, applied for amnesty for this and other bombings. The applications were opposed on various grounds, including that it was a terrorist attack disproportionate to the political motive. The TRC found that the number of civilians versus military personnel killed was unclear. South African Police statistics indicated that 7 members of the SAAF were killed. The commission found that at least 84 of the injured were SAAF members or employees. Amnesty was granted by the TRC.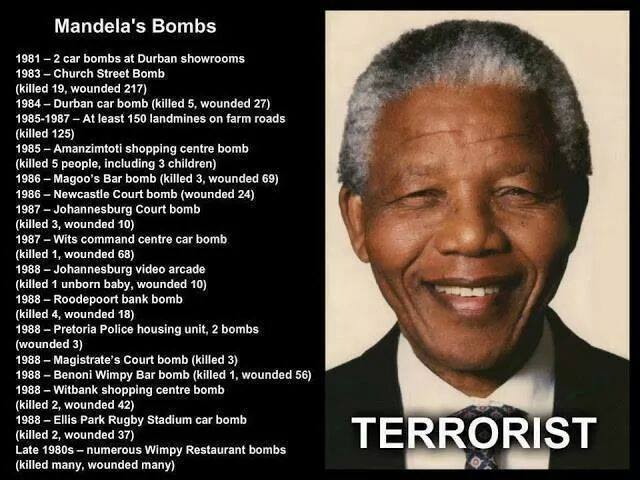 ---
See Also: Mandela, Killer of Nations: Atheist, Marxist, Terrorist, New World Order poster boy, Black Pope, Communist Mass Murderer, Abortionist, Role-player…
---