Chinese ivory traffickers now established in all African countries – Out Of Africa report
A new report uncovers the fact that Chinese ivory traffickers are present in virtually every African state, and operate at nearly every point along the supply chain. The report, called Out of Africa; Criminalisation of the African Ivory Trade, was commissioned by Born Free USA and C4ADS (a nonprofit organisation that is dedicated to data-driven analysis and evidence-based reporting of conflict and security issues worldwide), and focuses on the entire supply chain from source to end user. It found that despite its global scale, the majority of the illegal ivory trade is dominated by a small number of networks, and that the majority of the ivory is shipped via just 100 large annual consignments that make up 70-80 per cent of the trade.
Seizures across multiple countries and commodities often appear to trace back to the same individuals and networks, and traffickers, particularly Chinese, straddle Africa and Asia and are linked to seizures in nearly every African range state and at nearly every stage along the supply chain. The report also revealed that the majority of the illegal ivory travels through a small number of ports and airports on its way to Asia. The three main ports are Mombasa, Dar es Salaam, and Zanzibar, while the top three airports in the chain are Nairobi, Addis Ababa, and Johannesburg.
Adam M Roberts, CEO of The Born Free Foundation and Born Free USA said: "The ivory trade is operating today at the highest level since the 1989 commercial ivory trade ban. Our investigation reveals that between 2009 and June 2014, there were more than 90 large-scale ivory seizures, collectively weighing almost 170 tons, that bear the hallmarks of international organised crime. "This would amount to approximately 229,729 elephants killed and trafficked in fewer than six years." "It is well known that East Asian nationals, and, in particular, the Chinese, drive the modern ivory trade. However, the scale we found in our investigation was shocking; Chinese traffickers are present in virtually every single African range state, and operate at nearly every point along the ivory supply chain."
Varun Vira, Chief of Analysis at C4ADS and co-author of the report said, "The ivory trade is worth billions of dollars but is still talked about as if it were an unprofessional, disorganised, and artisanal industry, of concern only to conservationists. "In reality, it is a highly organised, complex global crime that has avoided consequence for decades. However, our report reveals that there may be as few as 100 large-scale ivory containers moving annually that drive the vast majority of the entire illegal trade. "Focusing efforts on intercepting these containers and tracing back their owners and facilitators can have a real impact on the trade."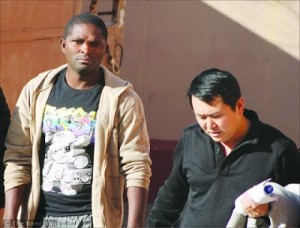 A Chinese 'businessman' and a Namibian accomplice on trial after being arrested with 14 rhino horns in Namibia