One of the bodies discovered following the attack at one of Germany's largest shopping centres may be that of a gunman.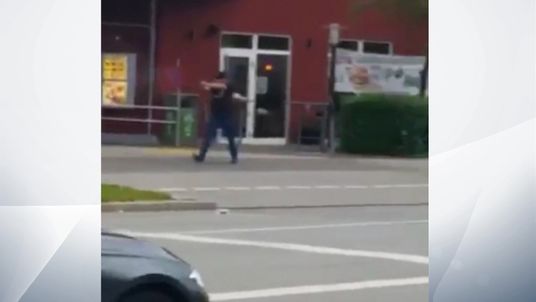 At least nine people have been killed and many more injured in a shooting at a shopping centre in the German city of Munich.
Police believe three gunmen may have been involved in the attack at the Olympia-Einkaufszentrum mall.
They have warned there could be suspects who are still "on the run and dangerous.
Footage shows paramedics desperately battling to save lives in #Munich https://t.co/diee36In7Q pic.twitter.com/bOM0RVrSOE

— Daily Mail Online (@MailOnline) July 22, 2016
Investigators say the "acute terror situation" has sparked the biggest police operation in Munich for more than a decade.
"We believe we are dealing with a shooting rampage," a police spokesman said.
The authorities are urging people to avoid the area
Detectives are checking to see whether one of the bodies belongs to an attacker amid reports he may have shot himself in the head.
A dead man found one kilometre away from the scene of the shooting had a red backpack.
That bag is similar to that used by the attacker who was outside a McDonald's restaurant.
:: LIVE: Gunmen On Loose After Munich Mall Attack 
A police spokesman said the shootings began in or outside the fast food branch shortly before 6pm local time and were witnessed by up to 100 people.
A woman named Loretta said she was in the McDonald's when the man with a gun came out of a bathroom and began shooting.
She told CNN: "I come out of the toilet and I hear like an alarm, boom, boom, boom.
"He's killing the children. The children were sitting to eat. They can't run."
Sky's Foreign Affairs Editor, Sam Kiley, says one of the suspected gunmen was confronted by a person filming on their mobile phone.
In the video, the attacker can be heard shouting: "I am German – I was born here."
The attack happened on the fifth anniversary of a massacre in Norway by right-wing extremist Anders Behring Breivik.
Employees and customers barricaded themselves inside shops as the attack took place.
But officers believe they have evacuated everyone from the complex and brought them to safety.
An employee who was inside the mall told Reuters by phone that many shots were fired.
The witness said they saw someone who was "so severely injured that he definitely didn't survive".
:: Gunman Opens Fire Outside Munich McDonald's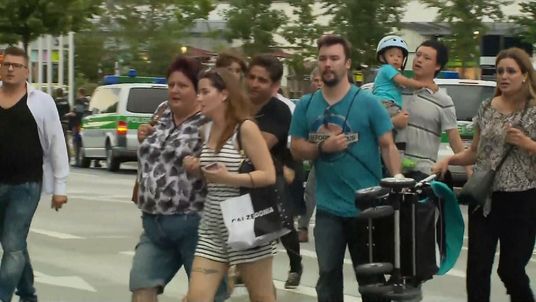 The entire transport network in Munich has been suspended, and the city's main railway station evacuated.
Several highways north of Munich have also been sealed off by police.
There had been reports of a second shooting at the Stachus metro station in the city centre, about five miles away from the mall.
This has been denied by the Munich fire department.
Germany foreign minister Frank-Walter Steinmeier has said the motive for the "abhorrent act" has not been clarified.
He added that investigators have had to contend with "contradictory clues".
:: 'I Am German', Munich Gunman Shouted
This is the second attack in Germany in less than a week .
On Monday, a 17-year-old Afghan wounded four people in an axe and knife attack on a train near the Bavarian city of Wuerzberg.