Disgruntled parents of children at George Jacques Primary School in Alicedale have decided to shut down the school after the Grade 1 class had been without a teacher for more than a year.
The parents have locked the school gates for six days now and learners and teachers cannot attend the school. Candice Arnold, speaking on behalf of parents, said they couldn't wait any longer for the Department of Education to act.
"Our school has been neglected by the department and we have had enough," she said. "For the past year, the post of a Grade 1 teacher has been vacant."
She said the Grade 1 teacher retired last September. "We have resorted to using recent matriculants to help with teaching our kids, the department has not shown any urgency in solving this matter and we have decided as parents to close the school," she said.
Arnold said they wanted an Afrikaans-speaking teacher as that was the school's medium of instruction.
"Until the teacher is appointed we will not stop, tomorrow we are going to the district," she said.
Makana Councillor Ernest Louw told Grocott's Mail that he has been trying to assist the school in getting political intervention but has not received feedback yet. "I have been communicating with the MEC's office but nothing yet, although the person I spoke to promised to assist but we are still waiting," he said. Louw said the parents have resorted to the protest due to lack of feedback from the district department of education.
District Education head Amos Fetsha told Grocott's Mail that he, the MEC and other officials were aware of the issue, as well as a similar problem at George Dickerson Primary School in Grahamstown."They are trying to find a solution," he said.
The problem at both schools is that they want Afrikaans' educators, which are rare, he said. 
"They are a scarce brand, we don't have them in the system unless we get a nod from the department to recruit outside of the system," Fetsha said.
Arnold said today (Friday 01 August) they will be marching to the Grahamstown district offices to demand answers. Fetsha said he was aware that they were coming to his office about the matter.
"The problem is that there are many of these schools that need Afrikaans' educators and if we solve one issue at a time the other school will also complain; until the department gives us permission to get educators outside the system my hands are amputated in this matter," Fetsha said.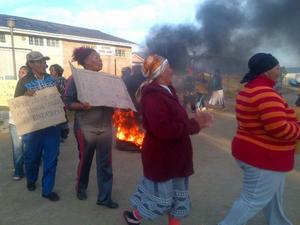 From Grocotts